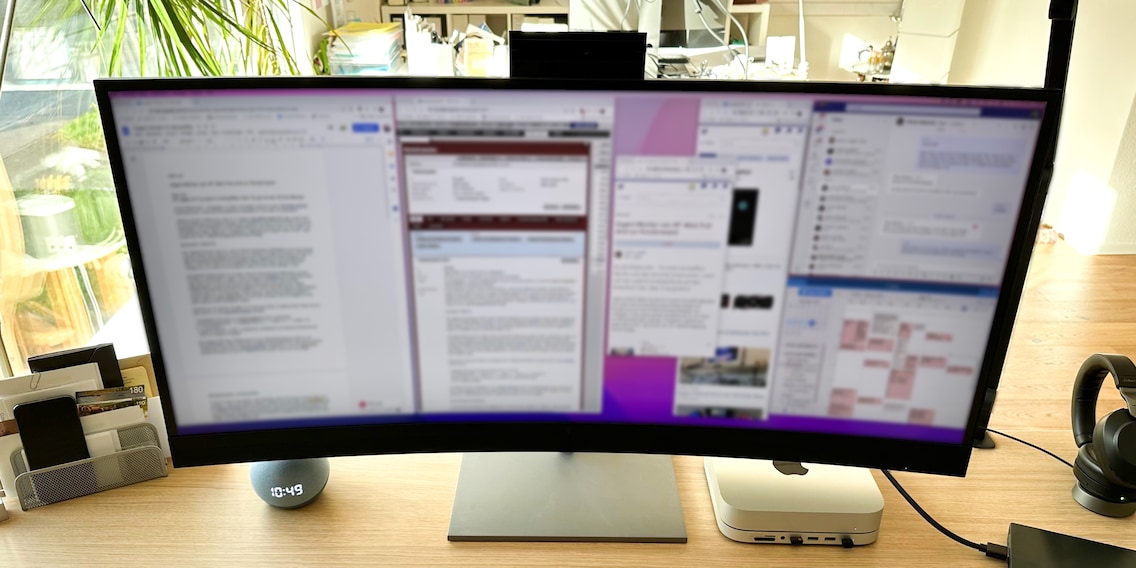 Giant monitor from HP: My desk becomes a cinema screen

Translation:
machine translated
40 inch widescreen - for a home office monitor, these are quite dimensions. Is the extra working space on the screen worth it? That's what I tried out.
"You're kidding?!" My wife, sitting opposite me in our home office, looks at me with a mixture of scepticism, curiosity and horror as I lug the HP Z40C G3 Curved. And "lugging" is meant literally here. The monitor I received from HP for testing weighs over 14 kilograms. Somehow that's logical, because a 40-inch - or 39.7-inch - screen diagonal is quite an achievement.
I am testing the behemoth screen because I always want to make my home workplace even better. I've been quite happy with my Dell U2719D for almost three years. It is a good 60 centimetres wide and can be adjusted in height and angle. With 2560 x 1440 pixels, it delivers a decent resolution for everything my Mac Mini wants to display. I'd recommend it to you, but it's no longer available. Too old.
I'm testing the monster monitor mainly because I sometimes feel I don't have enough space on the 27-incher. I'm not good at closing programmes or tabs. Although not as bad as Caro, who suffers from too-many-tabs-syndrome. Nevertheless, I also accumulate a lot and have to jump back and forth between different applications a lot. I abandoned an attempt to use my iPad as a sidecar monitor. I don't want to have another gadget with yet another cable on my desk in the long run.
That's why the HP Z40C G3 Curved comes in handy. On paper, it offers a lot of what I want as a home office worker:
Antiglare IPS screen with WUHD resolution (5120 x 2160 pixels) .- Connectivity: 1 × display port 1.4, 1 × HDMI 2.0, 1 × USB-A 3.0, 2 × Thunderbolt 3
Integrated webcam (13 MP), speakers and microphone (with noise cancellation) .- Adjustable height and tilt
The HP Z40C G3 doesn't pull up any trees in terms of brightness (300 nits), response time (14 ms), refresh rate (60 Hz) and contrast ratio (1000:1). It's not for ambitious gamers or semi-professional photographers. It is an office monitor. That's why I'm focusing on how it performs here in the test report.
Assembly and connections
In the box I find the monitor, two mains cables, one with a Schuko plug for the EU market and - fortunately - one with a Swiss plug. In addition, there are two HDMI cables, one Thunderbolt cable and one Display Port cable. The connections are easy to reach on the back of the monitor. The price for this convenience is that they stick out at a 90-degree angle; Dell and other manufacturers have the connections so that the cables hang down, which looks a bit more elegant.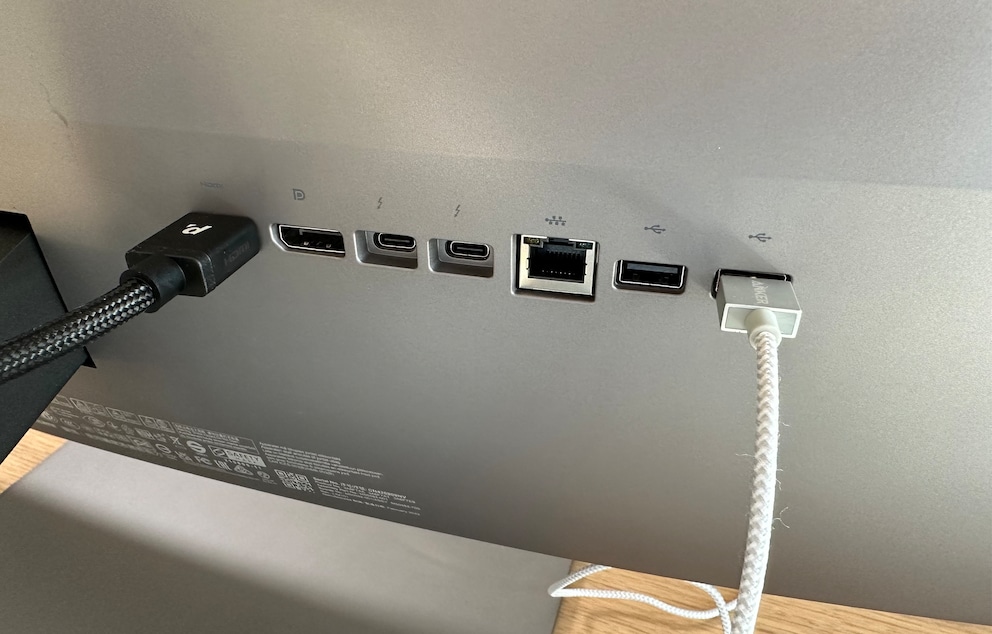 The stand consists of two parts: on the one hand, the stand base, in which the height adjustment is integrated, and on the other hand, a solid metal plate with a width of 30 centimetres and a depth of 27 centimetres. The depth is important for me because it defines the remaining space in front of the monitor on my desk. It is 80 centimetres deep, so I still have 53 centimetres for the keyboard and mouse. Which is easily enough.
My standard 27-inch Dell monitor comes with an 18-centimetre-deep panel. It is therefore further away, which is in line with the recommendations of experts on workplace ergonomics. There should be at least 80 centimetres between the eyes and the screen. With the HP, I get just under 70, although these distance recommendations are always one thing above all else: Recommendations. You can be closer to a very fine picture, but if the picture is bad, it is better to be further away.
I would have more space if I used the Vesa adapter plate (100 × 100 millimetres) and a monitor arm, which is also included. Because my Swedish desk is supposed to be able to take loads of up to 70 kilograms, I decide against the effort and opt for the stand variant. The HP is as stable as an oak in the forest. Even when I bump into the desk, there is little wobbling. I need a bit of force to adjust the height and tilt, which feels very valuable and sturdy.
Working on a huge surface
After just one day, I have become a fan of the larger screen. Previously, if I wanted to have two programme windows next to each other on 27 inches, it was quite a bit of tinkering. Now I sit in front of a panorama of possibilities. In the middle I am writing this article. To the left, Outlook is open and shows me the next appointment and my inbox. On the right, the teams chat is open. When I enter the article into our content management system, I can drag and drop the photos where I used to switch windows. And there is even room to preview the article in the browser.
The curvature of the Z40C is rather subtle - 2500R. This means that the monitor would form a circle with a radius of two and a half metres - if it were that wide. At this radius, I almost don't notice the curvature. And yet it is strong enough that my eyes have no trouble focusing quickly on content displayed at the edge. But it's too little for an intensive gaming experience, because, for example, an opponent doesn't suddenly appear at my left shoulder, as with extreme curvatures.
Two computers on one monitor
Speaking of gaming. Although the Z40C is intended for office use, I tried it briefly for a few games. It's a good idea because it can display images from two different computers. I have wired up an Asus notebook in addition to my Mac Mini. This makes it possible to split the screen like Moses once split the Red Sea. On the left, my Mac applications remain visible, on the right there is room for a little building strategy like "Anno 1404" here.
With the "HP Display Manager" I can split the screen display, so how much space does the Mac get, and how much the Asus notebook. At least in theory. Because the app is only available in the Microsoft Store, but not in the Apple App Store, it doesn't work. Theoretically, I could even use the same keyboard and mouse. With "HP Device Bridge", both Windows computers and Mac devices would recognise the peripherals. I could even move data from one computer to the other across the system moat. According to the HP manual, the prerequisite is that the app is installed on both computers. Too bad: The app is not yet available for Mac OS. At least it is still to come, HP tells me on request.
Camera and microphone
The joy over the giant monitor has been dampened for the first time. The second disappointment is the integrated webcam. Until now, I had a simple external Logitech webcam on my Dell monitor. It always sticks out a bit into the picture, and I need an additional cable. All not optimal. That's why I was very excited when I saw the HP solution: a camera that extends upwards from the housing when I need it. In its plastic housing, it can even be tilted.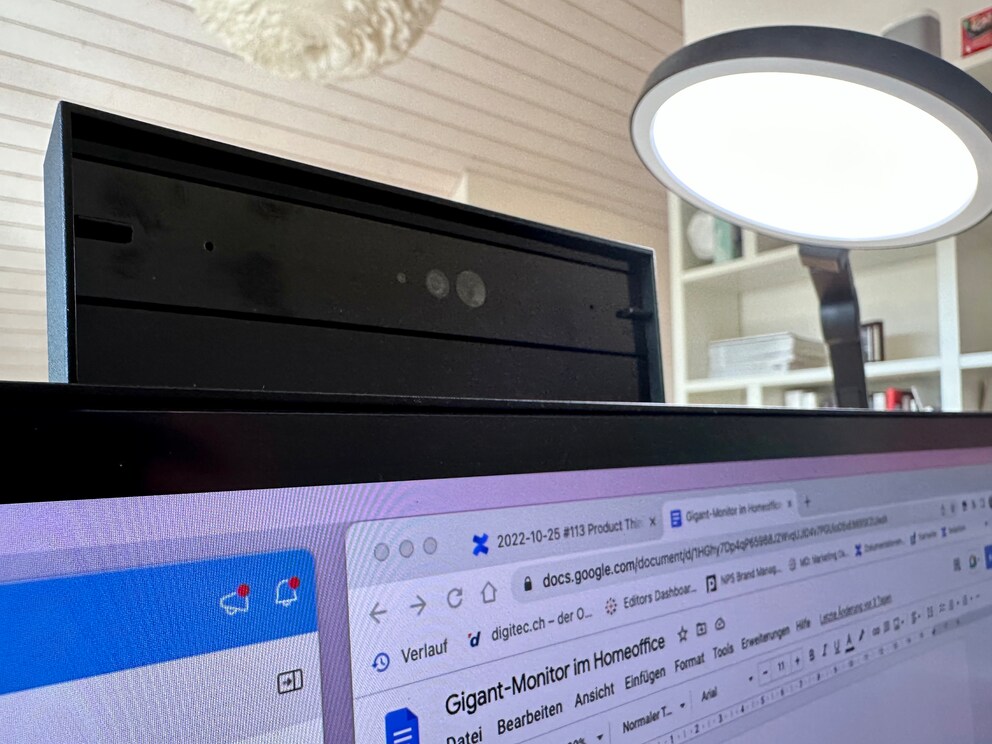 13 megapixel resolution and Full HD at are in the product specifications, the camera is supposed to always keep me in focus, a directional microphone is integrated. Sound comes from the stereo speaker with two five-watt speakers, which is installed at the bottom of the monitor across its entire width of almost 95 centimetres. The best prerequisites for video meetings.
What can then be seen of me in the first team call, however, is probably best described as a bunch of pixels in human form. The microphone and loudspeakers integrated into the camera are good, so what the heap of pixels says, the others understand at least.
Of course, teams, zoom and co. are partly to blame because they compress the video images. But the fact that I, as a Mac user, have no chance to at least optimise the camera's parameters disappoints me. This is possible on Windows with the "HP Display Center" app. Here I can zoom in on my face, adjust brightness and contrast and turn off the strange wide angle.
For Mac OS, the app - like the one for Display Manager - is in the planning stage, according to HP, and should be available from November 2023. At least.
Even though the integrated HP camera is slightly superior to my 20-franc piece from Logitech in very low or very bright light, I stow it away again in its compartment at the top of the monitor. Respectively, I even leave it extended because it offers a nice spot for the external webcam. Nevertheless, it also fits well directly on the edge of the HP monitor. The edge is 1.4 centimetres wide. Wide enough that the webcam holder does not protrude into the picture. On the left and right, the black edge is somewhat narrower at 0.8 centimetres.
Conclusion: Good for the eyes, bad for Mac users
Bigger is better. I work faster on 40 inches widescreen than on 27 inches in 16:9 format. This didn't necessarily surprise me as a realisation. I got used to the huge screen very quickly. The WUHD resolution is a joy to look at, photos are razor-sharp, colours look rich and vivid. A blue light filter, HP calls it "Eye Easy", keeps my eyes relaxed until the end of a working day at my desk.
On HP's widescreen, even a Youtube video or a Netflix movie is a joy. If you don't have headphones, the stereo sound of the built-in speakers will do just fine.
When I'm at work, I can't wait to get started.
When I was working, I turned the scaling up so that I could still read the writing well. You're not getting any younger, and your eyes are getting a little weak. Thanks to the high resolution, the typeface remains sharp, which is good for the eyes.
The widescreen design ensures that I look from left to right more than before. But at 45 centimetres, the monitor is no taller than a 27-incher with a 16:9 aspect ratio. You get even less height in relation to the screen size with ultra-widescreen devices with a 49-inch diagonal. Instead of an aspect ratio of 21:9, they even have 32:9. . The built-in camera is pretty useless for me as a Mac user as long as the corresponding apps are only available for Windows. HP should urgently deliver on that.
If you are at home in the Windows world and like large monitors with great resolution, the Z40C is not a bad all-rounder. It's priced pretty close to comparable models such as this one from Dell or the LG model. Two 27-inchers side by side would be cheaper to buy.
If you have higher expectations, go for a device with OLED or mini-LED instead of IPS. For me, the giant monitor will be back on the radar at the earliest when the missing apps for Mac are available. The switch back to the 27-inch device was so hard, though, that I've been maintaining my comparison list in the shop of potential alternatives ever since. So for now, my wife doesn't have to look for me behind a behemoth monitor.
P.S.: If you're wondering what happened to that great WUHD resolution on the cover photo at the top, don't worry. There's a filter over it so you don't have to worry about what's being discussed in my Outlook calendar or in my teams chat. .
---


Journalist since 1997. Stopovers in Franconia (or the Franken region), Lake Constance, Obwalden, Nidwalden and Zurich. Father since 2014. Expert in editorial organisation and motivation. Focus on sustainability, home office tools, beautiful things for the home, creative toys and sports equipment. 
---