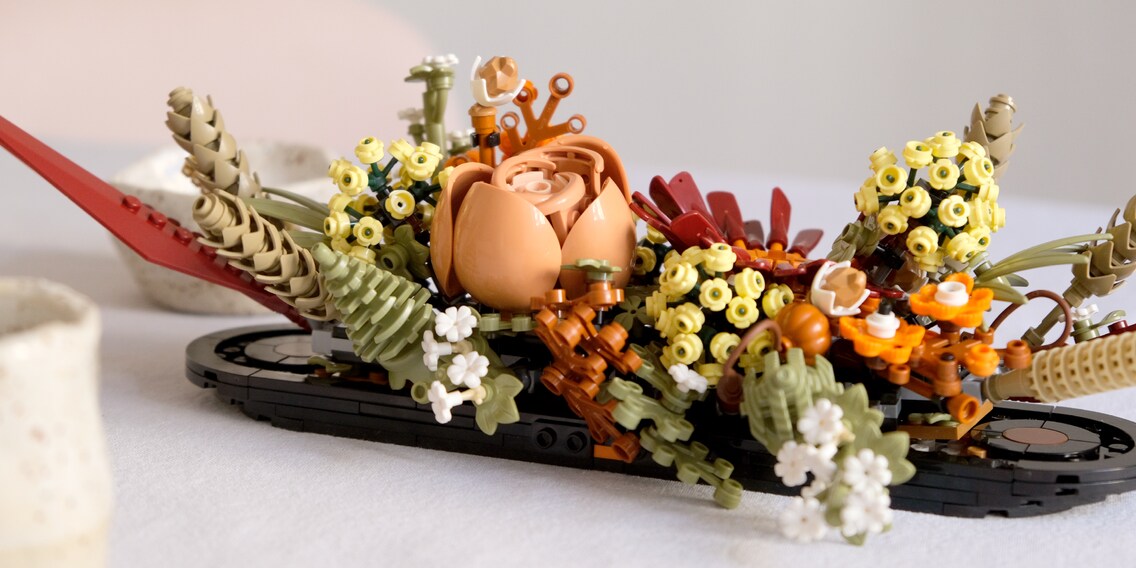 Lego's very first dried flower bouquet – a worthy Valentine's Day gift?

Lego Icons has released a set for building an artificial dried flower arrangement that you're better off building with a partner. Here's why.
Five years ago, when I saw dried flowers at a Paris fair, I thought they were old-fashioned. Little did I know this would soon change. Shortly thereafter, florists and interior stores started using them as an additional source of income, and brand new dried flower boutiques started popping up, such as the Swiss label «Arui». I couldn't escape all the pampas grass and eucalyptus online either – and so, my mind was changed. I had to admit they looked darn good.
It took Lego longer than me to realise that dried flowers have shed their dusty image. Just earlier this year, the toy brand expanded its Botanical Collection with the 812-piece set called «Dried Flower Centrepiece». It consists of plastic flowers made from sustainable sugar cane and inspired by Gerbera and roses in autumn colours.
According to Lego, it's «an opportunity to make special memories with loved ones». It's reportedly designed in a way that you can build it alongside someone, but you don't have to. To find out if this was true, I co-opted my boyfriend into building it with me. Now, I'm no big Lego lover, but I have become a dried flower fan. That's my motivation for doing this – I want to know if this fake flower bouquet looks good and can keep up with the real deal.
Building
Two years ago, I assembled Lego's «fresh» bouquet of cut flowers from the Botanical Collection. In the process, I briefly forgot that the journey can, in fact, be the destination. This time I'm taking a more relaxed approach to the dried flower arrangement and giving myself more time. Maybe in part because I'm building it with my boyfriend this time.
First, we grab a set of building instructions each along with the corresponding building blocks. We then start by creating the base for the centrepiece. It's only later on that we each work on different dried flowers, though always with the same goal in mind. Each step comes with its own bag of building blocks, so we never get in each other's way.
I'm no Lego brick connoisseur, mind you, but some of the flower colours I see in this set are a first. They're too faded for my taste. Some lavender or baby's breath would have added some nice contrast; even when dried, they often retain their rich purple and pink. I also wish there were more building blocks to better hide the fact that the arrangement is artificial. Many of the pieces are very angular. And the black platform especially would be less noticeable if it came in a lighter shade.
Over the course of building, I found a trick to make the arrangement look more organic: I simply don't place all the blocks to the T according to the instructions. Instead, I offset or twist some of the petals slightly – and instruct my boyfriend to do the same. After all, unlike with the Lego bouquet I'd previously built, I can't rely on an opaque vase to make this arrangement look more real.
After we're done, I'm happy with the result. The arrangement was fun to assemble as a couple. If you're building it on your own, it can feel a bit repetitive. With the exception of the rose and Gerbera, many flowers are the same. This keeps me from wanting to expand it into a large wreath. The option exists – but I imagine it'd be boring. I'd really like there to be more colourful building blocks for the flowers.
Hanging it up
Unlike the bouquet, which necessitated a vase, this arrangement stands on its own. I really want to see it hung up – and I'm not disappointed. It shines even more than stood on the table, because its dark platform fades into the background. The only drawback is that certain parts, such as the tree or bladder cherry, tend to come loose when you hang up the centrepiece; not because we didn't push them in enough, but because they couldn't be attached properly from the beginning.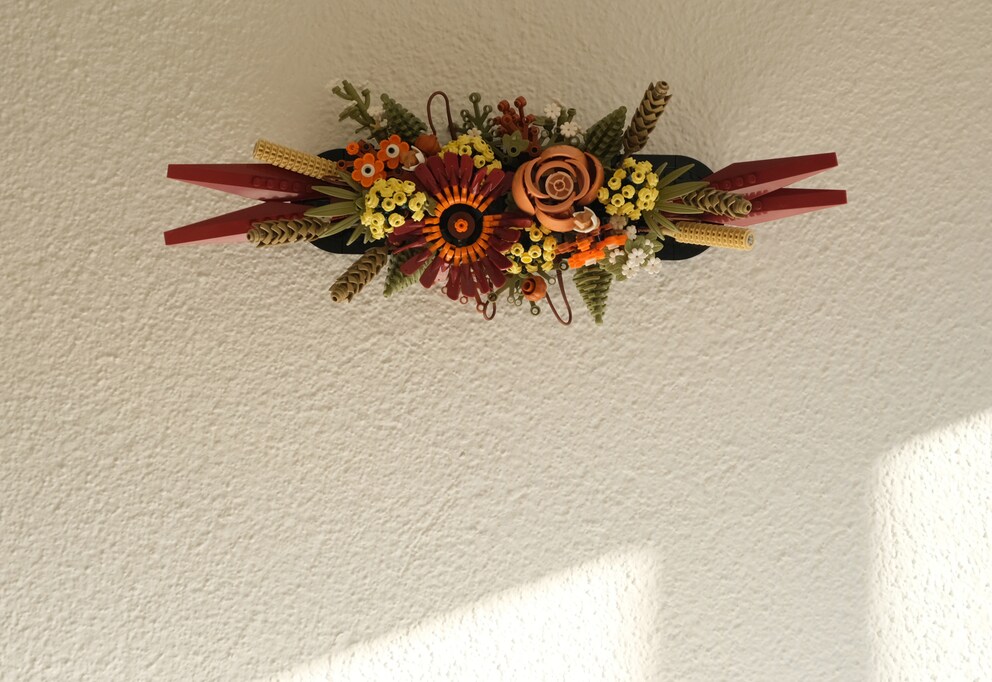 My verdict: a nice building set for two
Whether used as a table or wall decoration, the Dried Flower Centrepiece gives your interior a versatile breathe of fresh air. The result won't fool anyone into thinking it's real, but it does have a lot in common with dried flowers: it's decorative, lasts a lifetime and doesn't need water, only an occasional dusting. And, like with real dried flowers, little pieces may fall off from time to time. But hey, they're only Lego bricks, and this only happens if you don't handle the centrepiece carefully enough. Which brings me to the first con: certain pieces don't fit snugly enough – and the set is a bit too pricey for that. I expect better quality for close to 60 francs. Another thing I'm not totally happy with is the monochrome colours and the repetitive flower types.
All this flower building did bring me and my boyfriend joy. But I can imagine doing it alone might not be quite as entertaining; the flowers are repetitive – you won't experience anything new in the second phase of building, except for one sole flower. For Lego aficionados, the building set might be too simple. But because you can chat with your building partner on the side, it does make a good gift – for Valentine's Day or any other occasion. It's not long before you and your «loved ones» end up with a final product you can use to spice up the room. And that's a bonding experience.
Header image: Pia Seidel
---



«There are only two ways to live your life. One is as though nothing is a miracle. The other is as though everything is a miracle. I believe in the latter.»
– Albert Einstein
---