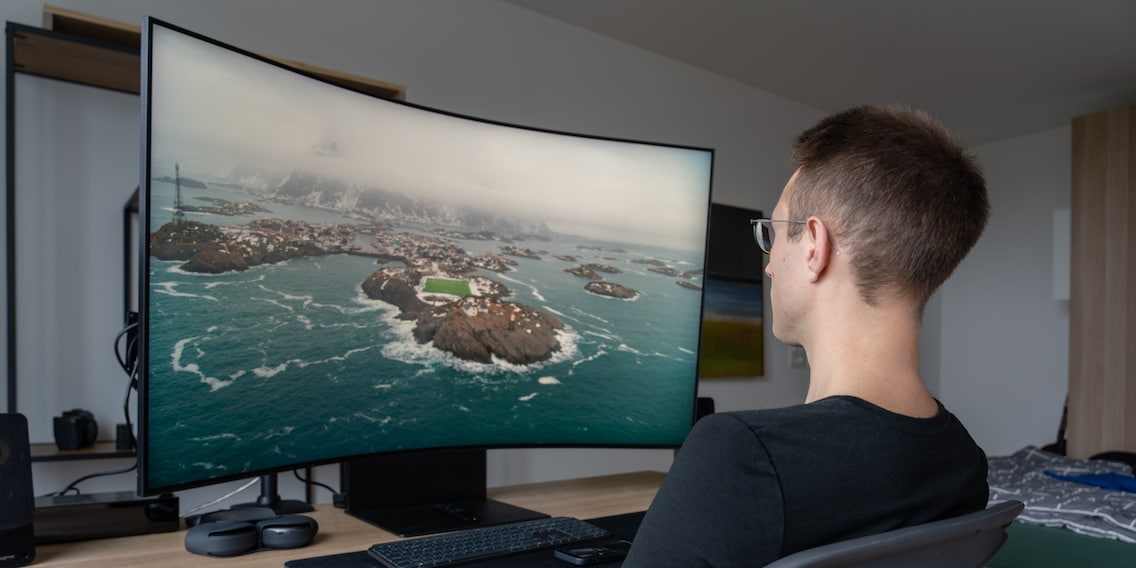 Samsung's monster monitor Odyssey Ark proved to be too much for me

The Odyssey Ark is Samsung's largest gaming monitor. With its 55 inches and 1000R curve, it's like being in VR – without the goggles. As impressive as that is, it's not something I want for the long haul.
With the inception of the 55-inch Odyssey Ark curved monitor, Samsung has created a monster. I'd wanted to keep it on my desk for a couple of weeks, but two days into the review, I threw in the towel. The screen is just too big for me. Samsung calls it «immersive», which is true – and quite an experience when gaming. The problem is, I don't want to be bound up in the clutches of the screen all the time.
Design: hopefully the table won't collapse
Fifty-five inches of monitor looks totally out of proportion on a desk. The Ark is as large as the OLED TV in my living room, and is more than twice as heavy. The beast clocks in at 41.5 kilogrammes; a weight that's not just evident in the display itself, but in the Ark's gigantic, solid steel stand. This serves as a counterweight to the monitor and creates stability. But you'll need an equally steady desk. Don't even attempt to assemble the Ark by yourself – you'll only break your back.
The thing differentiating the Ark from a TV is its aggressive 1000R curve. This measurement indicates that the screen represents a portion of a circle with a 1000 mm radius. That's pretty round. According to Samsung, it's best to sit «at least 80 cm» from the monitor. So your desk needs to be not just stable enough, but low enough. Even at a metre away, the Ark still takes up your entire field of vision.
The materials are fine, the workmanship is fine – it all feels good. Just what you'd expect, given the price. And the edges are nice and thin. Just like with some of its TVs, Samsung has an elegant cable management solution for Ark: the One Connect box. The box bundles together all the input cables – even the power one – with just one cable leading to the screen.
Image quality: very good
This screen really does cut a fine figure for uses such as gaming or watching movies. The Quantum Mini-LED display has 1,056 dimming zones, which vary the brightness individually. It supports the latest licence-free HDR standard HDR10+ and exudes a maximum brightness of 1,000 nits. When I try the screen out in the highest setting, it's unbearably bright. The contrast is good, and black looks black – even if it's not OLED black. The colours pop, but don't look unnatural. I'm pleasantly surprised by the latter, given that I usually find Samsung monitors oversaturated.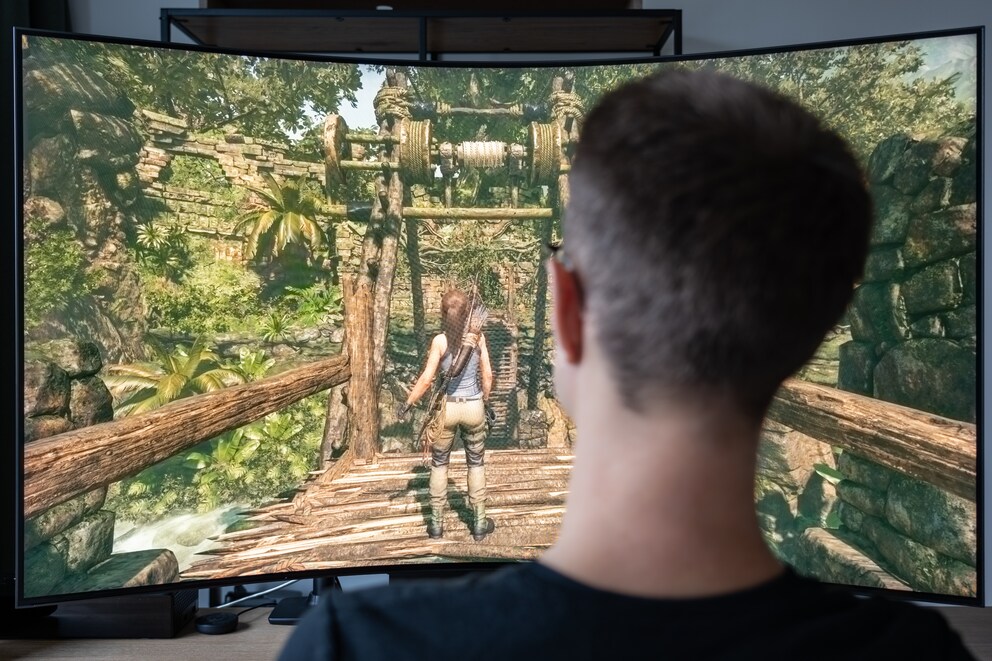 The response time and refresh rate are good – 1 millisecond grey to grey and 165 hertz. Unless you're a professional e-sports athlete, that should be enough. Viewing angles, however, aren't one of the strengths of LED displays with VA panels. The Ark sometimes also produces slightly washed out contrasts, and halo effects appear when I look at the screen from the side. In the best possible sitting position, the aggressive curvature compensates for this problem in the vertical axis, where my gaze always hits the display at a right angle. At the top and bottom of the screen, however, this curvature isn't there. And since the Ark is wide as well as high, the viewing angles towards the corners are no longer optimal. That being said, this is only apparent when the picture is monochrome, and even then, the uniformity is decent.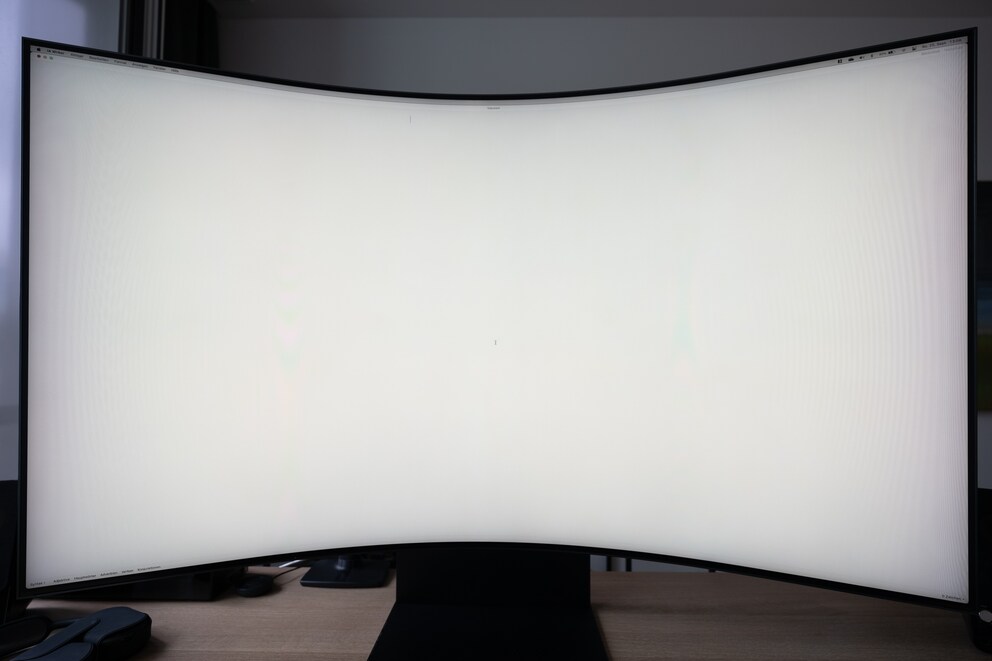 The Ark is the first 4K monitor I've wished had a higher resolution. Its 55 inches are about as large as four 27-inch screens next to and above one another. This means the pixel density, at 80 pixels per inch (ppi), is similar to a 27-incher with Full HD resolution. Sitting one metre away, this doesn't look cutting edge. For comparison, a 32-incher with 4K resolution has 137 ppi, a current MacBook Pro 254 ppi.
Gaming: quite the experience, but taxing
This means you'll need a strong PC capable of handling 4K. Mind you, anyone with the wherewithal to purchase an Odyssey Ark probably has the cash for one. In my opinion, the pixel density is good enough for games. Gamers are in for quite the experience: I literally dive into the game worlds, the Ark taking over my entire field of vision. It feels a little like virtual reality without goggles – and is just as taxing. After the wow factor fizzles out, I'm left wondering if I actually like the size. My answer? It depends.
It's great for adventure games, simulations and role-playing games, and I like the massive screen for strategy games too. In fast-paced racing games, it's too much for me. In shooters, I just can't keep track: glancing to the left and right isn't enough to see the enemies at the edge of the screen. I have to turn my head, which is strenuous in the long run.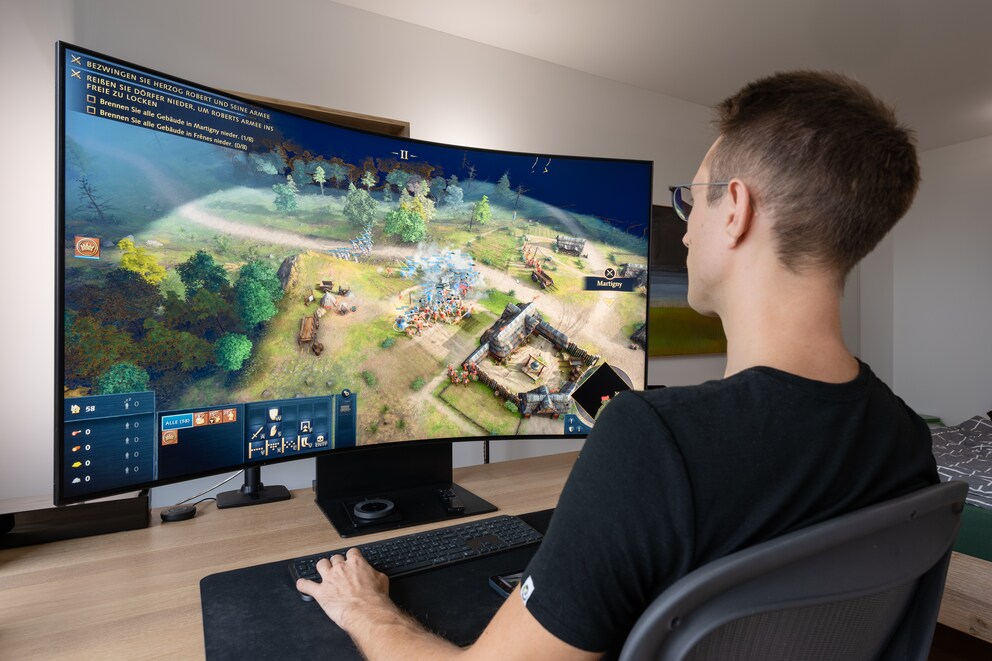 It's a similar story when it comes to the height of the screen. For my taste, it can't be adjusted low enough. The bottom edge always hovers at least 15 centimetres above the desktop. Despite being 186 centimetres tall, I need to sit bolt upright at the desk. It's not until I adjust my chair higher than I'd like that I'm able to look at the middle of the screen comfortably. In my normal sitting position, my gaze tends to land in the centre of the lower half of the screen. For anything happening in the top half, I need to tilt my head back. It's an ergonomic nightmare.
Office use: I give up
Because of its dubious ergonomics, the size of Samsung's monster turns it from a feature to a hindrance in any situation besides gaming. I'd planned to use the Ark for several weeks, but this didn't come to fruition. Why? I also need my monitor for work. And when I'm working, I don't want to be immersed in my computer the whole time. I prefer being aware of my surroundings. Sure, the 55-inch display allows me to easily set up four 27-inch windows. But this is rarely handy. In most cases, two is enough for me. Either way, I don't want to look at the top screens because of the looming threat of neck stiffness.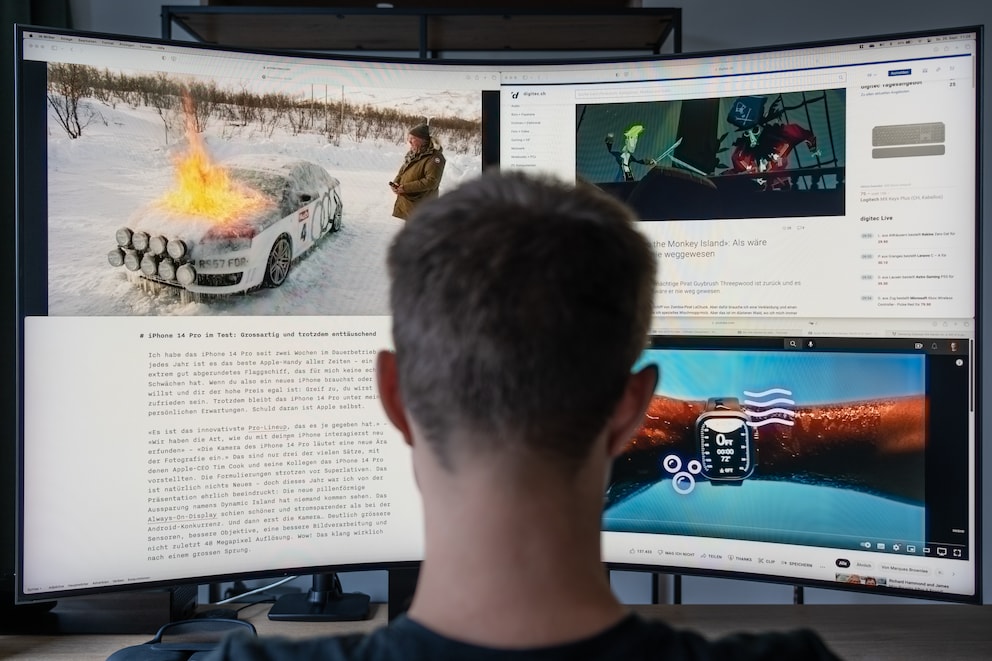 One potential solution would be to alter the image digitally or make it smaller, which I can do with the Ark Dial, a gigantic remote control. It allows you to set different aspect ratios and continuously scale the image size. Although this lets me simulate a regular, workplace widescreen, the rest of the screen is like a black hole sucking up my entire field of vision. Or a colourful hole, if that's what you choose to enable in the settings.
I force myself to work on the Odyssey Ark for two days before having to throw in the towel. As well as the black hole effect, the pixel density is to blame for this. At this distance, it's too low for me, especially when working with text.
For TV and movies, Samsung includes a regular remote and has kitted out the Ark with a Smart TV operating system. In theory, this means I could use it like a typical TV. The thing is, I don't want to sit so close to such a big screen when I'm watching a movie. There's a reason why I don't put my living room sofa three metres in front of the TV and why I avoid the front row at the cinema. What's more, sitting further away from the Ark puts me outside of the focal point of the 1000R curvature. The viewing angle towards the edges isn't right and there's a noticeable drop in image quality.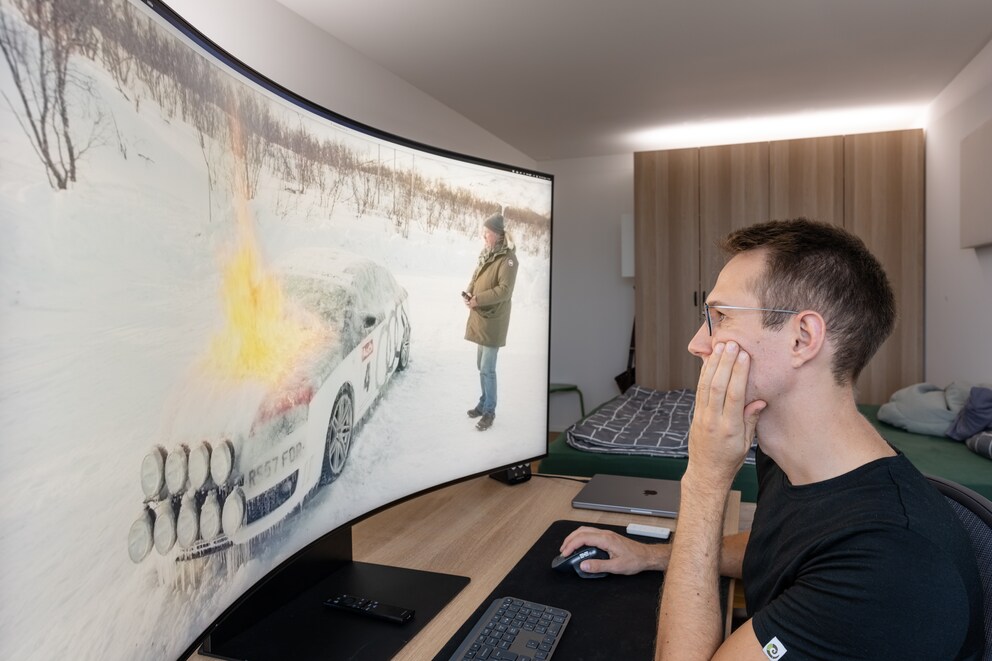 Cockpit mode: help
The vertical «Cockpit Mode is» just laughable. I can rotate the Odyssey Ark 90 degrees, resulting in a vertically curved absurdity. Did I use the phrase «ergonomic nightmare» before? Well, Cockpit Mode is ergonomic hell. Still, putting the Ark in this format is perfect for the era of TikTok, Youtube and Instagram reels. Help.
Verdict: show over substance
The Samsung Odyssey Ark is a monitor of superlatives. Its sheer size combined with its aggressive curvature is impressive. When gaming, I'm won over by the image quality. What's more, the reaction time and frame rate are very good – at least for me, as a non-competitive gamer. Samsung has also packed every possible feature into the device, including two different remote controls. This is probably supposed to justify the price, which is just as gigantic as the display. At 2780 francs or 2899 euros, the monitor is up there in the luxury league. I'd never buy it,
as I think the 55-inch display is only useful for gaming – and even then, there are constraints. While role-playing games and simulations make for a totally new experience, I find other genres such as shooters or racing games really arduous to play. If you ask me, the monitor isn't ergonomically friendly, which is one of the reasons the Ark is useless in a working-from-home setup. Not only that, but its low pixel density doesn't seem cutting edge in regard to text- and image editing. 4K may sound good, but spread across 55 inches and viewed from 80 centimetres away, it doesn't look particularly sharp. You're better off investing in individual screens with a higher total resolution.
I don't know who I could recommend the Odyssey Ark to. For immersive gaming, ultrawide monitors like Samsung's Odyssey Neo G9offer better value for money – and because of their more ergonomic design, a more pleasant experience for longer sessions. As for office use, I don't want to be constantly absorbed in such a huge monitor, and it's unsuitable for image- and video editing. Overall, the Ark is more of a showcase for what's possible, as opposed to being a practical monitor. Maybe it would've been better off staying as a curious CES concept.
---



My fingerprint often changes so drastically that my MacBook doesn't recognise it anymore. The reason? If I'm not clinging to a monitor or camera, I'm probably clinging to a rockface by the tips of my fingers.
---