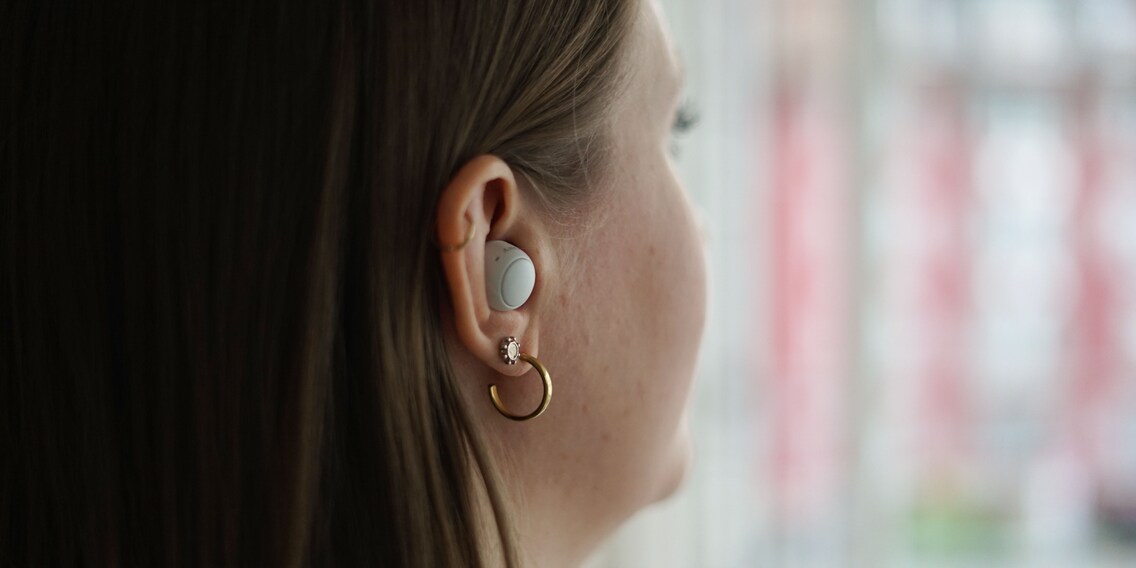 Sony WF-C700N: inexpensive yet near perfect headphones

There are many cheap and bad true wireless headphones. Sony's WF-C700N isn't one of them. The mid-range model convinces with its price-performance ratio and provides little reason to complain.
Experience shows that cheap true wireless headphones – i.e. completely wireless headphones – often have some kind of problem. Either the Bluetooth connection is unstable, the earbuds are too big and thus uncomfortable, the Active Noise Cancelling is poor (if present at all), or the sound is extremely tinny. Sony dispels these prejudices with the WF-C700N.
Surprisingly, these headphones are cheap but still good. They also come in beautiful colours: white, sage green, lavender and black.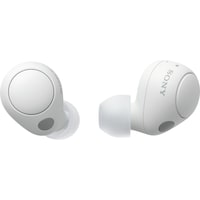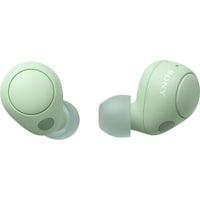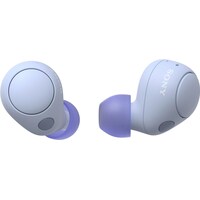 Light and comfortable
Compared to its predecessor, the WF-C500, Sony's current model has become quite a bit lighter. It slimmed down from 5.4 to 4.6 grams – a noticeable difference in the ear. The WF-C700N has shrunk too. It no longer sticks out of the ears, and thanks to the elongated oval shape, it sits deep and comfortable at the same time.
Sony's more expensive True Wireless models usually come with foam attachments – these seal better and are more comfortable. Unfortunately, these aren't included in the scope of delivery given the WF-C700N's price range. In addition, the silicone attachments are only available in three sizes. Users with particularly small ears will be left out in the cold. An XS attachment isn't included – Sony could've delivered more here.
A sound worth listening to
Let's talk about the sound. Cheap headphones often have something in common: too much bass. At some point, there seemed to have been a semi-secret agreement between manufacturers that booming bass should be considered a sign of quality. Fortunately, the WF-C700N isn't part of this unholy alliance. It does have a rather powerful bass for in-ear headphones, but it isn't booming. The mids aren't drowned out and sound clear and audible.
The trebles are pleasing, but my test track Burn The Witch by Radiohead makes them sound a bit dull and imprecise. Overall, however, the Sony earphones sound warm and fairly balanced. I'm a fan.
If you prefer a cooler sound or more bass, you can adjust this with the equaliser in the associated Sony Headphones app. There are eight presets to choose from. Otherwise you can programme and save a preset yourself.
Also included is Sony's 360 Reality Audio Standard. As the name suggests, this creates an artificial, fuller all-around sound. If you want to use the standard, however, you need either a Tidal or an Amazon Music account. You also have to provide Sony with photos of your ears in the app. This is needed to «create a tailored optimal sound field» according to Sony.
Sony has also included DSEE (Digital Sound Enhancement Engine) in the earphones, rather unusual for headphones in this price range. But you have to activate the default in the app first. Sony technology improves the sound quality by upscaling. Depending on the sound source used, you'll hear a minimal difference in quality.
Decent noise cancelling
What some inexpensive True Wireless headphones sometimes don't have or struggle with is surprisingly good in the C700N: Active Noise Cancelling (ANC). In the office, I stay focused and can work well, despite my rather chatty colleagues. Some noise, especially high and low voices, do come through. However, almost all headphones have trouble with voice frequencies. During my train commute, the earphones suppress the rattling and noise of the carriages well.
In the Headphones app, you can also select adaptive ANC, as with all Sony headphones – depending on the activity, be it transport, walking or staying, the noise cancellation changes in strength. This works well enough. Depending on your registered activity, the C700N adjusts noise suppression – whether you want that is another question. The setting is more confusing than useful to me in everyday life.
The opposite of Active Noise Cancelling, transparency mode, which picks up and «plays back» ambient sound, isn't quite as good. It sounds unnatural, and the spatial localisation is distorted. Sounds appear closer in the mode than they really are. It's annoying when you're out on the town – the tram at the intersection sounds like it's right behind me.
Wind is also louder in transparency mode, unless I hold my head at an angle so that the microphones are protected from the wind. I didn't have any problems in ANC mode here, the microphones can filter out wind.
No touch controls
These new Sony headphones, unlike almost all True Wireless headphones, don't use touch controls. Instead there's a physical button that takes up a big part of the earpiece. However, it only needs to be pressed very lightly and could almost pass for touch operation regardless. However, the button feels more accurate to me. By pressing it, I can always tell whether I've really given the command and don't have to tap around several times until something happens.
The app allows you to modify the controls. You can control ANC, playback and volume via the earpiece. Not all three, however, only two of the three functions can be assigned at a time.
I still have a complaint, however. The C700Ns don't feature Auto-Stop. When you take them out of your ears, your music just keeps on tooting. Most new headphones possess this feature and the corresponding sensors. They're missing on these buds.
No multipoint Bluetooth yet
Bluetooth also isn't perfect. The earphones don't have multipoint. This means that if you want to switch from one device to the next, you'll have to do so manually, i.e. reconnect each time. Bluetooth Multipoint makes this change automatic.
However, Sony announced that this feature will be added via an update – as it has been for other models already. I'd have liked to have it now. Still, not the worst.
Otherwise, Bluetooth works reliably and flawlessly for me. When first paired, the headphones immediately recognise new devices. Bluetooth 5.2 is used, but only the two AAC and SBC codecs are available. Sony's almost lossless LDAC standard isn't included. For a slightly better connection quality, a switch to AAC is recommended with Android devices. This has worked for me so far, but the headphones then couldn't always remember the AAC connection and sometimes switched back to the standard SBC codec.
Voice quality: see for yourself
The sound quality during calls is a weak point with many in-ear headphones. On the C700N, it's fine – it's slightly noisy, but when I'm in a call, my friends understand me.
To convince you of the voice quality right away, I recorded the microphone locally, removing any possible network problems. I recorded under the best conditions, i.e. without ambient noise.
Battery life
The C700N's battery life is in the decent mid-range; it lasts 7.5 hours with Active Noise Cancelling turned on. Without it this becomes 10 hours. An additional charge comes from the case – it's rather small, usually there are three charges. When the case battery is empty, the app does send you a push message (which can also be deactivated). The earphones don't have a quick-charge function; charging takes about three hours.
The case itself is lightweight and the lid is made of a thin, wobbly plastic. However, if you don't plan to bury the case in your backpack under your laptop and three thick books, you won't have a problem.
The headphones are IPX4 certified, protected against splashing water on all sides. So if you plan to go jogging in the rain, you can't use the C700N as an excuse not to go.
Verdict: does almost everything right
The WF-C700N buds are convincing: great quality at a comparatively low price. The sound, active noise cancelling and battery life are almost as good as expensive in-ears. The voice quality and Bluetooth connection, on the other hand, give some reason for criticism. And the in-ear attachments are also better than those on expensive equivalents.
Users looking to pay a bit more can reach for the LinkBuds S. They have multipoint and are otherwise very similar to the WF-C700N. In this Sony range, the WF-10000XM4 are on top, but they are a lot more expensive. However, the WF-C700N definitely ranks as a viable option among these three models. In the end, it still offers a great price-performance ratio.
Header image: Livia Gamper
---



Testing devices and gadgets is my thing. Some experiments lead to interesting insights, others to demolished phones. I'm hooked on series and can't imagine life without Netflix. In summer, you'll find me soaking up the sun by the lake or at a music festival.
---