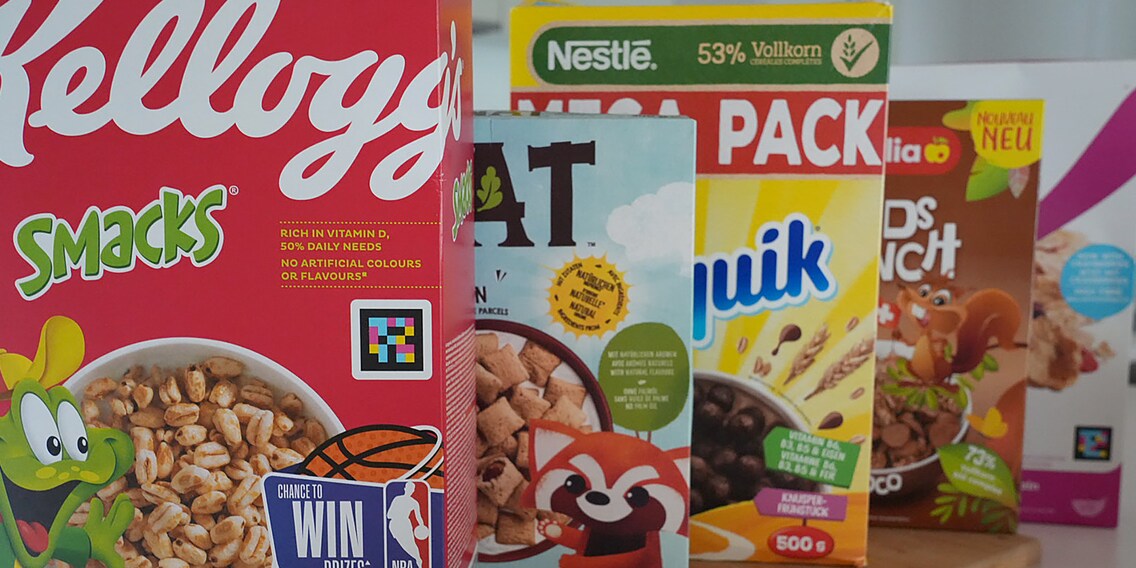 Sugar shock: Stiftung Warentest tests children's cereals - 80 per cent fail
Translation:
machine translated
Stiftung Warentest examined 110 children's cereals more closely and found out: Only 24 are recommendable. The rest exceed the WHO recommendations for sugar - sometimes drastically.
"53 percent whole grain", "rich in fibre" or "no artificial sweeteners" are emblazoned on cereal packages for children. It sounds good, but it's only half the truth. Most products are miles away from being called "healthy breakfast". This is the damning judgement of Stiftung Warentest. . The German consumer magazine compared the nutritional values of 110 cereal products with the recommendations of the World Health Organisation (WHO). 86 of them exceed the guideline values for sugar, 4 for fat. The WHO defines that 100 grams of cereals should contain a maximum of 12.5 grams of sugar and 17 grams of fat.
The biggest sugar bombs among the sugar bombs
. The Stiftung Warentest divided the tested cereals into seven groups. The biggest sugar bombs belong to the category "Honey and sugar cereals". First and foremost, Frosties and Smacks from Kellogg's: 100 grams of Kellogg's Frosties, for example, contain 37 grams of sugar per 100 grams. This exceeds the upper limit by almost three times - according to Stiftung Warentest, both Frosties and Smacks are more of a sweet than a meal.
"Chocolate cereals", "chocolate pillows", "cinnamon and sugar cereals" and "fruit loops" are also big sugar traps. In all these groups, there are exclusively "not recommendable" products. Four of the seven "chocolate pillows" tested - cereals filled with chocolate or nougat cream - even flop twice because they contain not only too much sugar but also too much fat. For example, the Nat chocolate hazelnut pillows.
Products for toddlers have the least sugar
. After all, 24 of the cereals tested are justifiable - all are represented in the "muesli" or "toddler cereal" categories. The mueslis consist mainly of cereal flakes, but are sometimes mixed with sugar and baked into a crunchy muesli. So here, too, parents cannot avoid studying the package inserts: The variance ranges from 6.4 grams of sugar per 100 grams to 28 grams of sugar.
Only with cereals for toddlers can you not go far wrong. Almost all products contain only moderate amounts of sugar, and fruits or fruit powder are responsible for the sweetness. Toddler products are also suitable for older children, recommends Stiftung Warentest. "A 60-gram portion fills you up well."
Further test findings
But how can it be that some cereals gave the best possible Nutri-Score A despite being far too high in sugar? The testers also investigated this question and found out: In the calculation model for the Nutri-Score - a scale from A to E, which is supposed to clarify the nutritional value - positive dietary fibres can compensate for negative ingredients such as sugar. But these enrichments are unnecessary, because according to studies, children and adolescents in Germany are well supplied with nutrients from conventional foods anyway. Moreover, the guideline values differ: Nutri-Score tolerates 90 grams of added sugar per day for a person, the WHO only 50 grams. . But there is also good news. Stiftung Warentest last conducted the cereal test in 2008. And since then, the food industry has tended to reduce the sugar content in children's cereals somewhat. But in view of the high number of overweight children and adolescents worldwide, this is still far from enough.
Titelfoto: Katja Fischer
---
Mom of Anna and Elsa, aperitif expert, group fitness fanatic, aspiring dancer and gossip lover. Often a multitasker and a person who wants it all, sometimes a chocolate chef and queen of the couch.
---