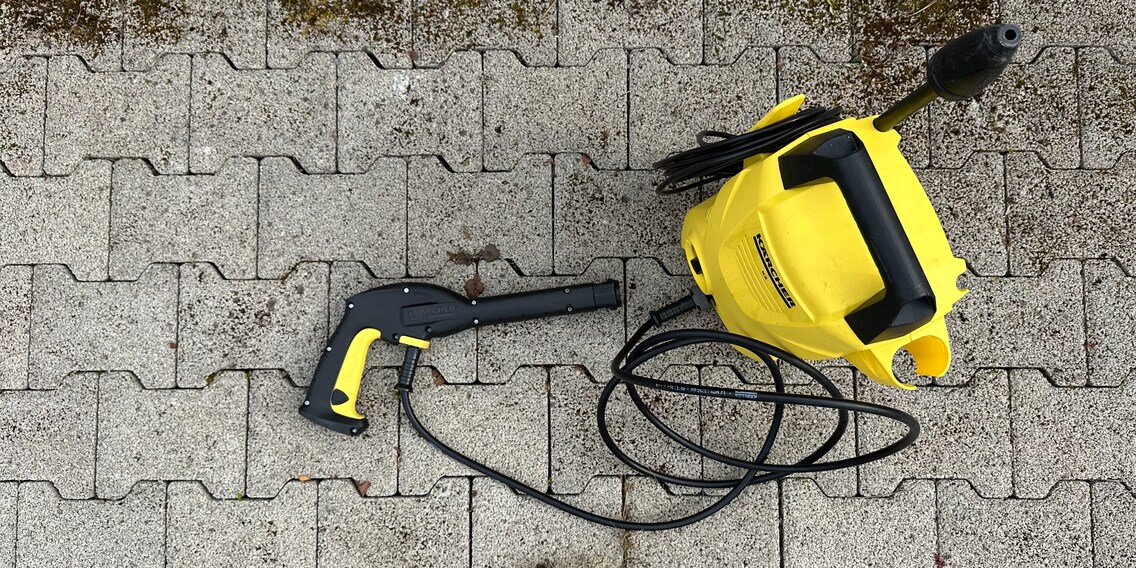 Tips for pressure washing this spring

You can do a lot of damage when tackling grime with a pressure washer. The following tips will help you clean up properly.
Autumn's leaf blower is replaced with a high-pressure washer in spring. The first warm rays of sun have barely graced gardens before people across cities and the countryside are bringing out their pressure washers. After all, it's fun to see dirt receding when you fire a jet of water at it at high pressure. But with this great power comes great responsibility.
1. Pay attention to the material you want to clean
Whether it's mossy slabs in the garden, dirt on a seat or filthy alloy wheels on your car – brands like Kärcher are the ideal companion. They let you hose away without hesitation to get rid of dirt – either the kind that's been annoying you for ages or the stuff you suddenly catch sight of. Nevertheless, you're still advised to be careful when cleaning certain plastic surfaces. If the pressure is too high, the colour can chip or you can damage the material in general. This typically puts garden furniture at risk. But you should also make sure not to aim the water jet at your front door or exterior wall.
Similarly, wood and high pressure don't go well together. This natural material can become saturated with water and end up damaged. Not only that, overly high pressure can also rupture wood fibres, meaning it's even more likely and easier for the surface to get dirty in future. Even hard woods such as bangikiri are a no-go. You can get special brush attachments and detergents, known as wood brighteners, for cleaning terrace floorboards and seats. The attachments usually reduce the pressure to 10 bar or less, to protect the wood. Putting that into context, your standard garden hose is about 5 bar.
There are also devices designed specifically for terrace cleaning. But then that would mean you'd have another device sitting around at home. It's smarter to upgrade one you already have with the right attachments so it's multi-purpose.
Similarly, you can get designated brush attachments for the car. These let you tackle dirt even when using less pressure – although it will involve more manual labour. This brush component also reportedly does a good job on big windows, shutters and garden furniture.
2. Make sure you've got the right pressure and distance
Pressure is just one factor that plays a part in effective cleaning. What's at least just as important is your distance from the object you're cleaning. You can go on your intuition and experience when working out the correct spraying distance. But as a rule of thumb, you're close enough when the dirt comes loose and you have good control over the spray and its direction. Kärcher recommends a distance of 12 to 40 cm. Incidentally, you don't want to get too close to your car tyres. Tyre manufacturer Continental, for instance, advises you to be at least 30 cm away so as not to damage the rubber.
As for cleaning bikes, a small amount of pressure is enough – in fact, it's essential if you don't want to cause any damage. Rather than firing at it with a 100-bar, high-performance gun, you'll want to work with at most 20 bar and stand further back. Bear in mind that pressure washers are a no-no with e-bikes. (site in German). Otherwise, you'd risk getting water in electronic components and the battery. So, you're better off washing these by hand. And you can even get the right brush for this – obviously – that's made specially for bikes.
In terms of pressure, you can either set it directly on the device itself or, on some pressure washers, on the gun's display, letting you regulate it. Kärcher lets you know which of their washers feature this option. Series K4, K5 and K7 are all «full control» models.
3. Make sure you've got the right accessories
I mentioned above that it's best not to subject garden furniture to high pressure jets directly because of the delicate material. But once you have the correct accessories, a pressure washer can still help to clean chairs and tables made of rattan, plastic and even wood. You can get corresponding attachments, mainly brushes, for pretty much all high-pressure washers. These remove any dirt when used in combination with the right detergent.
If your pressure washer doesn't come with a rotor nozzle attachment, you'll want to get one. It's not for nothing that Kärcher calls it the «dirt blaster». That's blaster, not eater. Although that would work too. So, what's a rotor nozzle? It's what gives your pressure washer a rotating and focussed spot stream. This has 50% more power than the standard surface jet and can also loosen caked on dirt and almost cut it away.
4. Safety first
Back pain, bruises and eye injuries are some of the health risks involved in water blasting. Aches and pains are caused by bad posture when you're cleaning, which is why you want to stand as straight as possible. Bruising, also known as medical haematomas, can occur when hard jets of water hit the skin. Or hit people around you. That's why you always want to pay attention to where you're directing the jet. And yes, it can even get in your eye when you're cleaning with a pressure washer. For instance, especially when you're a bit careless and spray little loose stones up in the air. If you want to err on the side of caution, you're better to wear safety goggles. And if you'd rather avoid the aforementioned posture problems, a mobile pressure washer you wheel around as opposed to lifting could be an option.
Even if you're not normally a fan of instruction manuals, it's a good idea to cast a glance over your pressure washer's. As you're working with electricity and water at the same time, fiddling around and seeing what works isn't the best idea.
PS: If it seems like I've blasted too much Kärcher yellow in this piece, I should point out that we obviously have other brands available. It's just that the largest range we stock is from the market leader.
Header image: Martin Jungfer
---


Journalist since 1997. Stopovers in Franconia (or the Franken region), Lake Constance, Obwalden, Nidwalden and Zurich. Father since 2014. Expert in editorial organisation and motivation. Focus on sustainability, home office tools, beautiful things for the home, creative toys and sports equipment. 
---