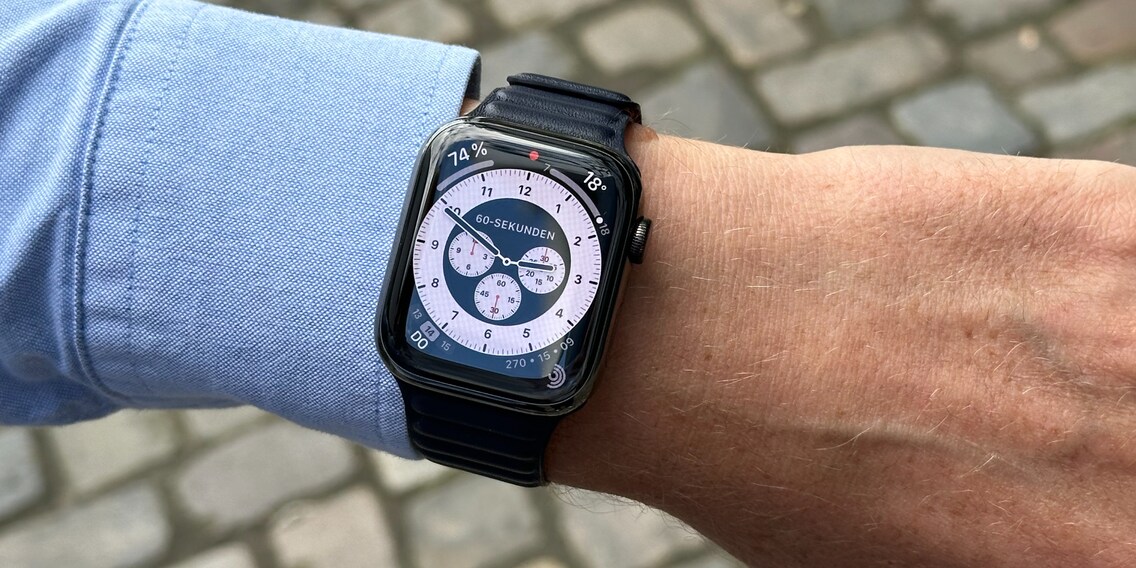 5 reasons why I'm an avid Apple Watch user

The latest smartwatch from Apple is here. Hopefully wrapped around my wrist soon. Why? Because it'll make my life easier.
My colleague Kevin doesn't like «smart» watches like the new Apple Watch. Yes, he actually put smart in quotation marks.
Me? I've been wearing my Apple Watch for a good year now and have no plans of stopping. I'm really looking forward to the Apple Watch 9 – despite it not being all that much better.
Now, I do also have a mechanical watch. One that would last a lifetime and that I could pass on to the next generation. But since getting the Apple Watch, I very rarely wear it anymore. I only really reach for it when style matters more than functionality. For example, at my imaginary rich uncle's 90th birthday gala dinner.
And I miss my smartwatch on these occasions. Here's why.
1. It only distracts me when it's something important
I look at my iPhone significantly less often since I started wearing the Apple Watch. I know that I'll be notified of anything important with a short vibration on my wrist. I no longer have to worry about the red notifications plastered over my app icons and if anything's happened in WhatsApp or the news. In my lovely little Apple world, I've set my notifications and focus times so that, for example, only messages from my wife are shown on my Apple Watch during work meetings. The iPhone is superfluous during this time and I can concentrate on the meeting without distractions.
2. It makes my life easier in many little ways
In total, I use the Apple Watch and iPhone together less often during the day than I used to use my iPhone only – which is evident in my screen time statistics. And yet, with the Apple Watch as a solid everyday helper, I'm more productive in several ways. Here are just three examples:
Automatic alarm clock: my Apple Watch knows when I want to get up during the week thanks to Sleep Timer. I don't even have to think about setting an alarm anymore. My watch reliably and gently vibrates me awake every morning. It's as dependable as a Swiss watch.
The weather: before I leave the house or send my daughter on her way to school, I can check the temperature with a quick glance. A tap tells me if and when it might rain.
Navigation for pedestrians: when I'm in a new city, Apple Maps guides me on my Apple Watch. If I have to turn, the clock vibrates beforehand to let me know. Again, I don't need to look at my phone.
3. It motivates me to move more
Kevin wrote that seeing his fitness data is rather demotivating. I, on the other hand, find that an open circle on my Apple Watch pushed me to move around just a bit more. I'm a sucker for gamification, like seeing virtual badges, and am interested in statistics.
The Health and Fitness apps are among my most used apps. When I see my cardio fitness going down, I know it's time to put in an interval session instead of just going for another easy jog. To balance out my endurance training, I've created a strength-training programme for myself. I'm pretty disciplined about sticking to it – especially thanks to the watch's notifications.
4. It can be styled
If you like the classic round watch shape, or some of the iconic designs by Rolex, IWC, Hublot, and the like, the Apple Watch will always be a break in style for you. Apple has opted for an angular design. Nevertheless, I can style the watch according to my taste. First, through the straps. For sports, I go for silicone – and enjoy incorporating bright colours. For the office, I go for a leather strap with a magnetic clasp, or one made of fine metal.
With my Series 8 Watch, I can also make a style statement with the always-on display. I can go for expensive-looking moon-phase watch faces, have Snoopy prance around, or create a classic chronograph look. It doesn't come close to a watch made in Biel, but it's good enough for me.
5. It comes with a clear eco-conscience
I'm seriously considering replacing my Series 8 Watch with the latest model. The new double-tap gesture could offer yet another simplification in everyday life. And the fact that the new generation shines brighter is a given. I'd have preferred a longer battery life. Having to charge the watch daily is this one thing that really, really grinds my gears.
But at least if I buy the latest generation of Apple's smartwatch, I can reconcile it with my ecological conscience. According to Apple, the Apple Watch 9 is now supposed to be carbon neutral.
The lowdown:
Header image: Jan Johannsen
---


Journalist since 1997. Stopovers in Franconia (or the Franken region), Lake Constance, Obwalden, Nidwalden and Zurich. Father since 2014. Expert in editorial organisation and motivation. Focus on sustainability, home office tools, beautiful things for the home, creative toys and sports equipment. 
---