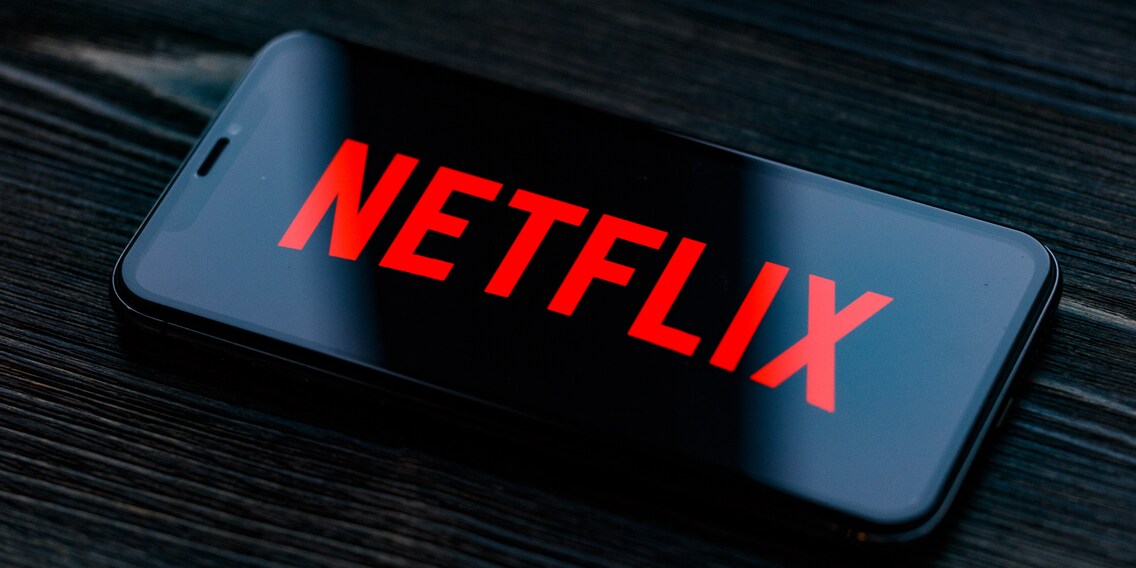 Account sharing on Netflix now costs - what you need to know

Translation:
machine translated
The time has come: Netflix is stopping the free sharing of accounts. An additional fee will now be charged for devices outside of one's own household. This is expensive and harbours pitfalls.
5.90 Swiss francs in Switzerland, 4.99 euros in Germany - that's how much you have to pay as a Netflix account holder from now on if you want to share it with people outside your household. In the USA, access for friends even costs 7.99 US dollars. After long test phases, speculations and delays, the streaming platform is thus definitely taking action against account sharing. The additional fees will be due in more than a hundred countries, the company announced on Tuesday.
The "additional members" can only be added to a standard or premium subscription. You can't do it with a basic subscription, where you can only stream on one device at a time anyway. Here are a few examples of how expensive a shared account will be with the new regulation per household in Switzerland:
Basic (CHF 11.90) + 0 additional members = CHF 11.90 per household .- Standard (CHF 18.90) + 1 additional member (CHF 5.90) = CHF 12.40 per household
Premium (CHF 24.90) + 2 additional members (CHF 11.80) = CHF 12.23 per household
Premium (CHF 24.90) + 3 additional members (CHF 17.70) = CHF 10.65 per household
The costs per household therefore always remain approximately the same. Only when you share your account with three people does the price drop slightly. In addition, the better subscriptions also increase the maximum resolution in which you can stream: With Basic it's 720p, with Standard 1080p and with Premium 2160p.
In Germany, it's the same.
In Germany, sharing an account is even more expensive in proportion to the basic price. A basic subscription costs 7.99 euros - a standard subscription (12.99 euros) plus an additional member is over twelve per cent more expensive at 8.99 euros per household. Even if you share a premium subscription with three other households, you still pay an average of 8.24 euros.
Caution: Profiles do not come with
In your Netflix account, there's a new "Additional members" option in the settings, where you can invite someone.
After you have confirmed the price, you can enter the name and email address of the additional person. They will then receive an invitation and can use it to set up an account with their own password. However, the new account will only have one profile available. In addition, it can only be used to download titles to one smartphone or tablet at a time for offline viewing.
With the new profile, the algorithm also starts from zero. Your friend loses their history and all recommendations. You can transfer a profile from your account to a new one - but not to one that already exists. So if someone wants to take their profile with them, they have to sign up for their own subscription.
Open questions
Exactly how Netflix plans to stop unofficial account sharing is only half clear. On this support page, the streaming giant writes: "We use information such as IP addresses, device IDs, and account activity to determine whether a device logged into your account is part of your Netflix household," GPS data to determine the exact physical location of the devices would not be collected.
According to the support page, you necessarily need a TV to define your household yourself. There you call up the menu and can manage your household under "Help". You will then receive a verification link by e-mail or SMS. If you don't define your household manually or don't have a TV, Netflix will assign your account automatically.
All you need to do is set up your household.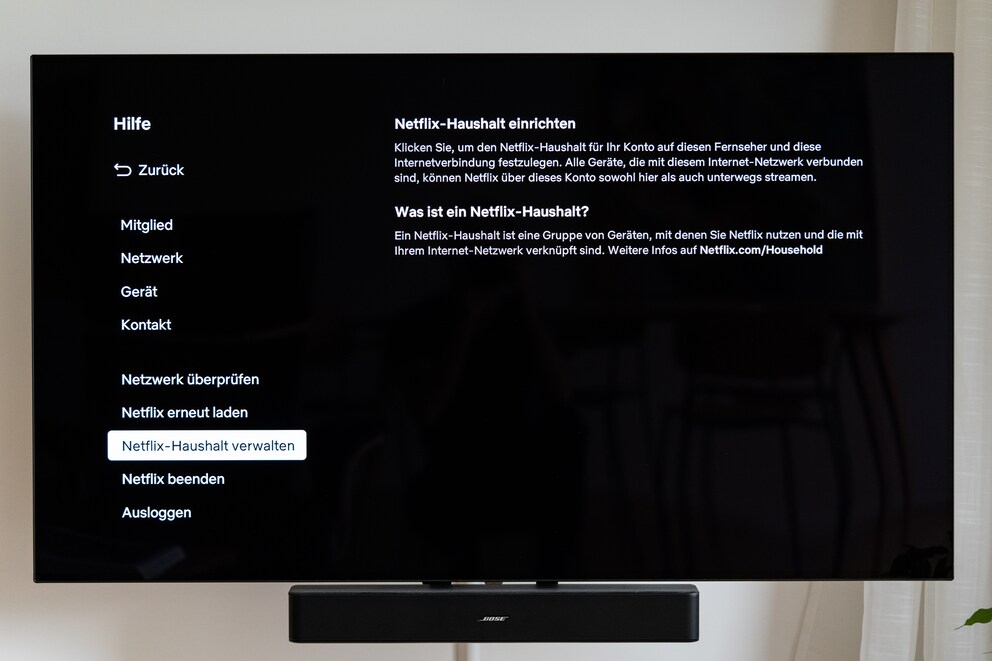 It also says: "You can update your Netflix household at any time from a TV by connecting to the internet at your address and following the steps above" There doesn't seem to be a limit to how often and at what interval you can do this. For example, it should be possible to temporarily set a holiday home as your household. .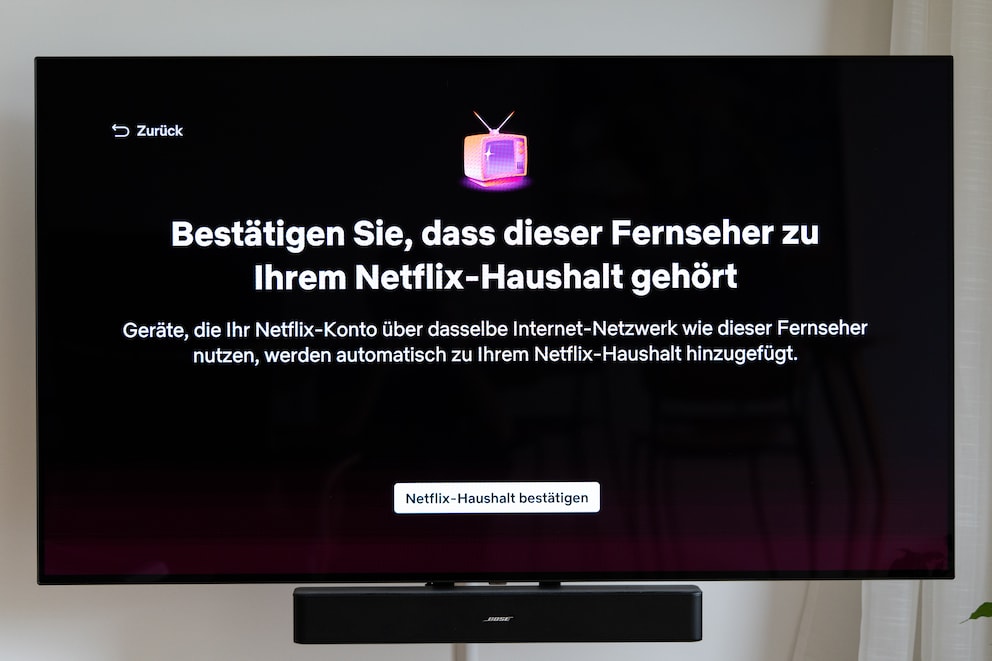 What happens with mobile devices remains to be seen. In the past, an interim FAQ made the rounds, stating that such devices must have logged into the home network in the last 31 days. Otherwise, access would be possible for seven days with a temporary code. However, the current support page no longer says anything about this.
Is it worth it for Netflix?
Whether Netflix actually ends up making more money with the move remains to be seen. Co-chief executive Ted Sarandos says in a statement, "The initiative will help us acquire a larger base of potential paying members and grow Netflix in the long term." But another outcome seems possible - namely that the end of account sharing will lead to numerous cancellations.
How about you? Are you willing to pay for shared accounts? Will you cancel your Netflix subscription? Drop it in the comments.
Titelbild: Shutterstock
---



My fingerprint often changes so drastically that my MacBook doesn't recognise it anymore. The reason? If I'm not clinging to a monitor or camera, I'm probably clinging to a rockface by the tips of my fingers.
---