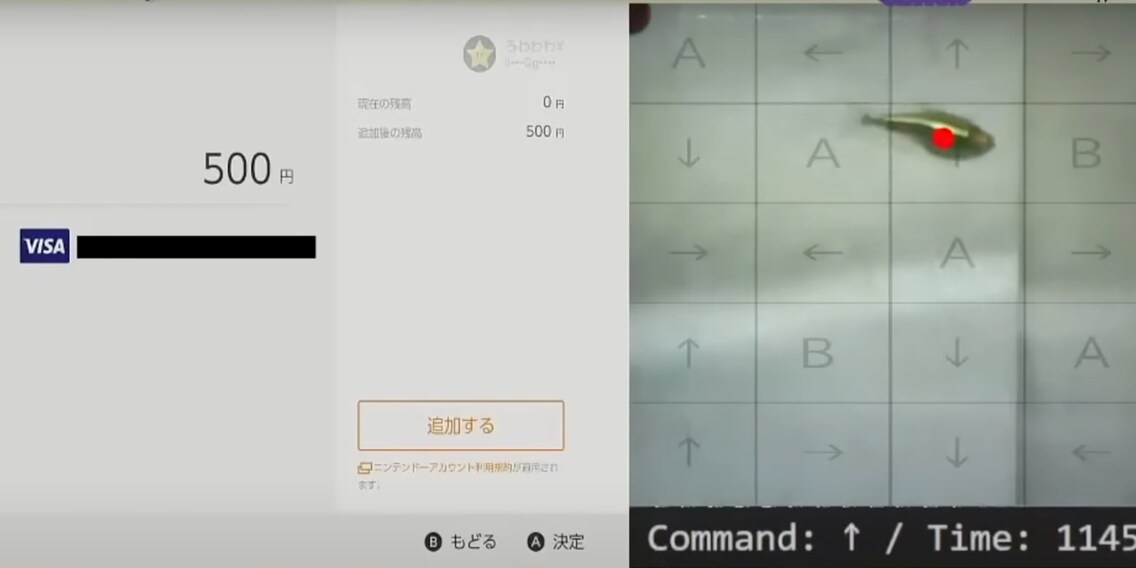 This article was translated automatically.
Fish publish their owner's credit card details
Actually, the aquarium fish were only supposed to play Pokémon. But when their owner is not at home, they go on a shopping spree and cause more mischief.
The fish of the Youtuber Mutekimaru have been playing games on their own on the Nintendo Switch for a long time. Currently Pokémon. Their movements are recorded by a webcam and interpreted as button inputs. For example, if a fish swims through an area labelled "A", the A button on the Nintendo Switch is pressed. You can watch the whole thing live. It's pretty boring most of the time.
Sometimes it gets exciting, though. Especially when, in Mutekimaru's absence, the game crashes. The Switch and the Youtube stream continue undaunted.
The fish are now on the game console's home screen instead of in the game. Apparently they are unhappy with the name of their account and change it to "ROWAWAWA¥". Then they open the Nintendo Online Store. They carefully study the terms of use and come to the conclusion that this suits them. They then leave the shop, only to return immediately and call up the credit card information. Of course, they are still in the live stream. To make sure everyone can read the information, they dive even deeper into the menu to have the information displayed even larger.
As this somewhat strange phishing continues, the fish open a PayPal account and send another email to its owner. They charge 500 yen to the credit card, about three and a half francs or euros. From the login points they collect, they also treat themselves to a better-looking avatar. They also download the Nintendo 64 emulator. Then they have enough and shut down the Switch on their own.
---



My interest in IT and writing landed me in tech journalism early on (2000). I want to know how we can use technology without being used. Outside of the office, I'm a keen musician who makes up for lacking talent with excessive enthusiasm.
---
These articles might also interest you
Skeleton Loader

Skeleton Loader

Skeleton Loader

Skeleton Loader

Skeleton Loader

Skeleton Loader