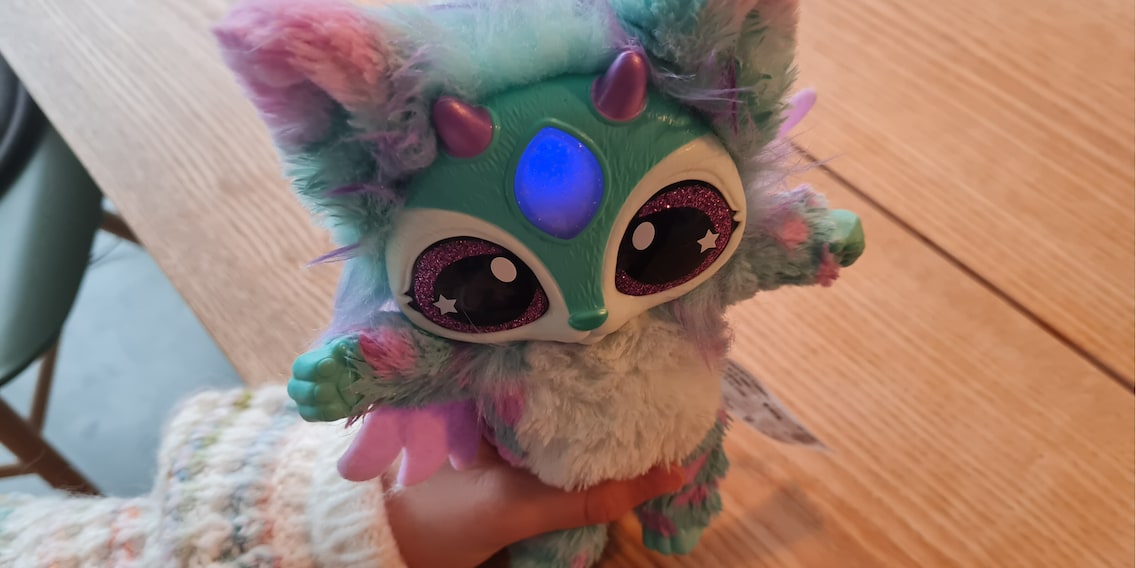 Gifts these days...

Like most years, Santa made almost all my children's wishes come true. Much to my dislike.
«A bottle of booze isn't a very meaningful present.» That's what people say. But I think I disagree. Like when I'm gifted five pairs of socks for Christmas. Honestly, I would've preferred to get a bottle of wine or grappa. Besides, there are tons of other meaningless gifts besides alcohol – especially for children. That was nicely demonstrated to me this Christmas.
Strictly speaking, it came to my attention about a month before the big unwrapping. Namely, when our two children were diligently writing up their wish lists for Santa, their dreams fuelled by catalogues by various department stores. My eight-year-old daughter was taken by the Magic Mixie and the included cauldron. A talking mythical creature can be conjured from a magic pot if you have the skills and magic know-how.
I quickly copped onto the fact that the Magic Mixie is no more than a lot of plastic combined with electronic animation. All my attempts to inspire my daughter to get what we parents consider a more meaningful gift failed. She wouldn't budge. Her wish had been made. And because Santa makes almost all children's wishes come true, Magic Mixie ended up under the Christmas tree.
Bubbling sounds in the witch's cauldron
My daughter's joy was huge on Christmas Eve when she realised her Mixie dreams had materialised.
Not a minute was wasted in freeing Mixie from the cauldron. The instructions are a quick read and the method really simple: after pouring a bit of water into the pot, my daughter gradually adds various items in a prescribed order. As soon as the water goes in, a glowing light and bubbling sounds go off in the pot.
Next, my daughter adds «sound dust». Using the wand provided, she stirs it in until it dissolves. As soon as the green light comes on and we hear a «knock, knock, knock», she needs to tap the rim of the cauldron three times with the wand and then add the next soluble solution to the water. This process is repeated six times.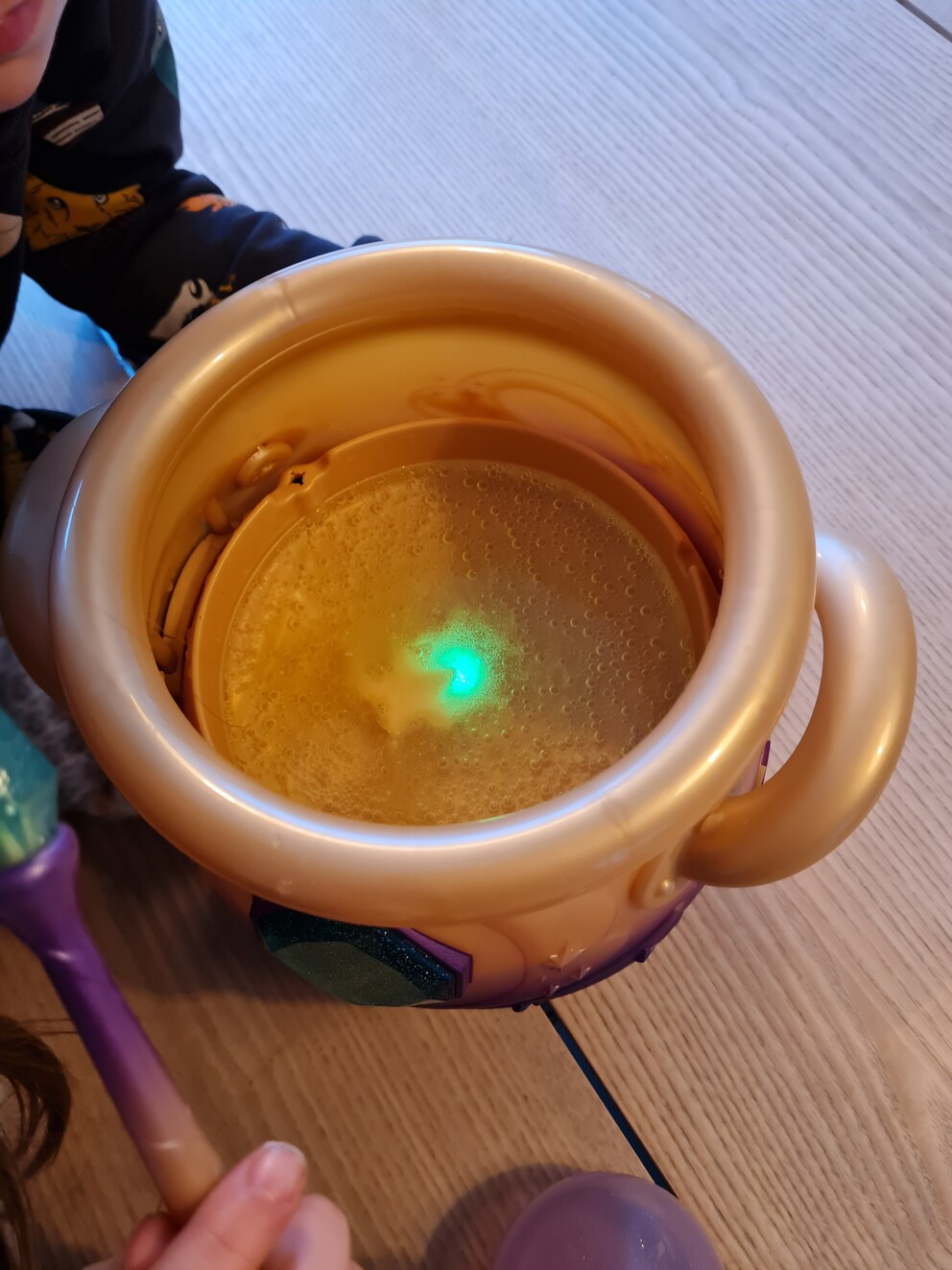 The cauldron reminds me of a school dance from yesteryear
All of a sudden, smoke rises from the pot. Quite a lot of it, actually. A few seconds in and the dining table is shrouded in fog. I dread to think what we're inhaling. The smell of the smoke reminds me of a the school dances we used to have; the ones with the fog machines that veiled that slow dance with your crush. We can no longer see the inside of the cauldron. And that's intended. All of a sudden, there's a dull sound. Upon closer inspection, we catch a glimpse of Mixie. She's free! My inner detective is itching to find out the workings behind this. But I don't get the chance. Instead of freeing Mixie from the cauldron, my daughter manages to twist the beast back down. Not a great move. The inner bowl that can be rotated by 180 degrees (and under which Mixie was hiding) is now locked into place.
My daughter's close to despair. Fortunately, dad can fix (almost) anything. I flip the cauldron round and drain out the water. Then we start again but without all the dust and potions. They're irrelevant and only serve the magic experience, as my daughter and I soon realise. As soon as we've poured water into the inner pot, it starts bubbling again. After just a few minutes, smoke rises from the cauldron again and Mixie reappears. Yay, Christmas is saved!
This time we successfully free the critter. She thanks us with a satisfied sound. But the magic doesn't stop there. With the help of the wand, my daughter can now interact with Mixie. She can provide her with energy.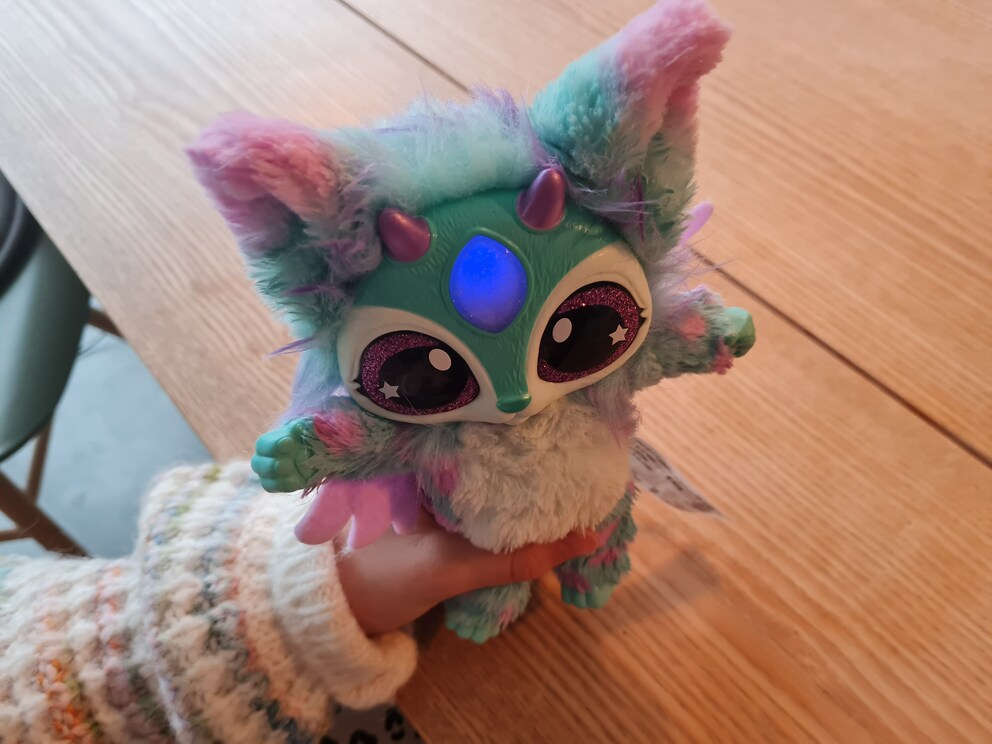 The reveal can be repeated endlessly
Speaking of energy... it goes without saying that the magic cauldron is fuelled by electricity. You can charge it via a micro USB cable. Mixie, on the other hand, doesn't get her energy from the magic wand but from batteries (who'd have thought?).
While my daughter's happy with her Mixie and trying to get to know her better, my prejudice is confirmed. Not only was this gift quite pricey, it also falls into the category «short-lived joy». At least there's one thing going for it. The Mixie reveal can be repeated endlessly. To repeat the process, just pop Mixie back in the pot and the fun can start all over again. The fog will last for about five runs. After that, you can refill the liquid smoke. Having said that, the appeal of the effects wears off once you've seen it. But my daughter's bound to amaze one or two of her friends with her magic cauldron.
I wonder what will be on my kids' wish list next year. Unfortunately, Santa only gives presents to the children in our house. If I could wish for something, it'd be alcohol. I know, I know, it's not the most meaningful present. But Santa doesn't seem to care so much about that when he gets the kids gifts.
Header image: Martin Rupf
---



Half-Danish dad of two and third child of the family, mushroom picker, angler, dedicated public viewer and world champion of putting my foot in it.
---