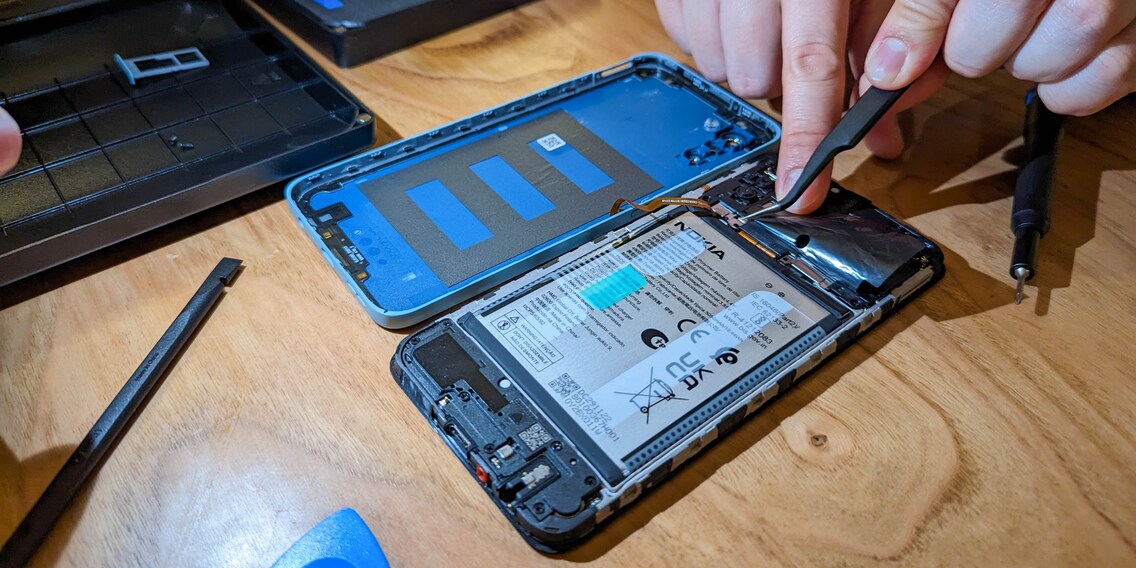 Nokia G22: This smartphone is supposed to be easy to repair

Translation:
machine translated
Nokia focuses on sustainability. Repair instructions and spare parts for the entry-level smartphone Nokia G22 are available at iFixit.
At the Mobile World Congress, Nokia announced its cooperation with the repair specialists from iFixit. However, the start is not very glamorous with the Nokia G22.
Akkutausch im Selbstversuch
The Nokia G22 is, apart from a few details and the still missing cooperation with iFixit there, the Nokia G21. Spare parts and repair instructions for the new smartphone are available at iFixit. For example, a new display costs about 50 euros and a new battery about 25 euros.
At Mobile World Congress 2023, I was able to try out the new repair kit myself. Nokia says the battery swap can be done in 20 minutes by inexperienced users. Opening the casing works perfectly with a plectrum-shaped tool. However, I still have to unscrew two screws inside, and that is just as complicated as the subsequent disconnection of two cables. . In addition, the battery is still stuck together. This is not impossible, but the effort required to loosen it is still unnecessarily high. It should become easier with the series models. However, Nokia cannot yet do without the glue completely.
Putting the cables back in properly and screwing the screws back in requires a sure instinct, but it is not impossible. If the repair is done correctly, and especially if the case is closed, the Nokia G22 should even retain its IP54 certification for splash protection.
Saving features
The 6.52-inch LCD screen has HD+ resolution and a maximum refresh rate of 90 hertz. Behind it are the Unisoc T606 and four gigabytes of RAM. The internal memory is 64 or 128 gigabytes and can be expanded with a microSD card.
Of the three cameras on the back, only the main camera with 50 megapixels is likely to be useful. The depth-of-field camera only provides additional data for blurring in portrait shots. Macro cameras with two megapixels have never had good image quality.
The 5000 mAh battery is said by Nokia to last up to three days. This speaks for hardware that consumes little energy or the manufacturer assumes that the smartphone is not used that intensively.
The Nokia G22 comes with Android 12 and is supposed to receive two major system updates - i.e. Android 13 and 14. Whereas Android 13 is already there and should sensibly already be on it. The smartphone will receive monthly security updates for three years.
The recommended retail price for the Nokia G22 is 179 euros, or 179 Swiss francs.
Spare parts and manuals are not enough
The good idea of spare parts and instructions for repair at home has a flaw, however: With its hardware equipment and short update period, the Nokia G22 hardly invites to be used for years.
---



When I was but a young student, I'd sit in my friend's living room with all my classmates and play on his SuperNES. Since then I've had the opportunity to test out all the newest technology for you. I've done reviews at Curved, Computer Bild and Netzwelt, and have now arrived at Galaxus.de. 
---