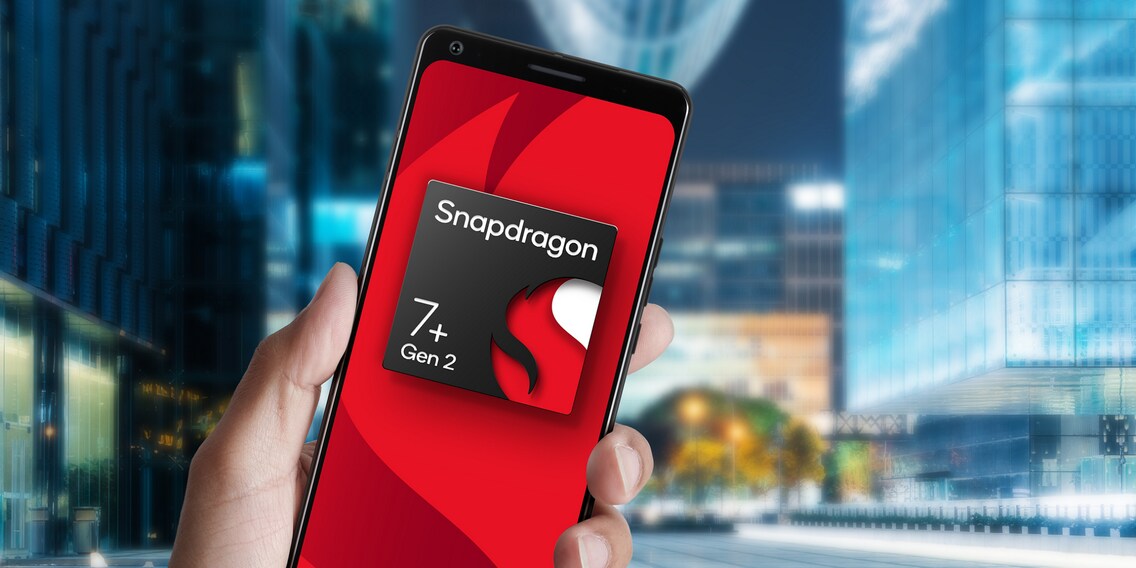 Snapdragon 7 Gen 2: More power for mid-range smartphones

Translation:
machine translated
The Snapdragon 7 Gen 2 is said to offer 50 per cent more performance compared to its predecessor - and consume less energy. Qualcomm's new processor will soon be installed in mid-range smartphones.
Qualcomm has introduced the Snapdragon 7 Gen 2. It consists not only of the processor, but is a so-called system-on-chip (SoC). With it, Qualcomm brings some premium features to the mid-range.
50 per cent more performance, 13 per cent less power consumption
The Snapdragon 7 Gen 2 has eight processing cores. These are four efficiency cores, three performance cores and one prime core. Depending on the required performance, the SoC accesses other processing cores. The prime core reaches a clock frequency of up to 2.91 gigahertz.
The Snapdragon 7 Gen 2 CPU is said to deliver over 50 per cent more power than its predecessor. The Adreno GPU, which is responsible for graphics calculations, is said to have doubled its performance. The same applies to the AI engine, which is responsible for automated processes and predictions - i.e. artificial intelligence. The power consumption of the entire SoC has nevertheless been reduced by 13 percent, according to Qualcomm.
For gaming, the Snapdragon 7 Gen 2 optimises its performance by, among other things, calculating content in the foreground in full resolution and that in the background in lower resolution.
With the Snapdragon 7 Gen 2, smartphone manufacturers can install cameras with up to 200 megapixels of resolution. It supports 18-bit RAW shooting and can take up to 30 photos in low-light mode and stitch them together to form one image.
The Snapdragon 7 Gen 2 supports download speeds of up to 4.4 Gbps with its 5G modem X62. However, this peak value is likely to remain as theoretical as the 3.6 Gbps that the SoC enables with Wi-Fi 6E. With Bluetooth 5.3, it also supports the latest standard, including aptX for lossless streaming of music.
According to Qualcomm, the first smartphones with the Snapdragon 7 Gen 2 will be introduced this March. The company names Realme and the Xiaomi sub-brand Redmi as the first vendors to install the new processor.
Titelfoto: Qualcomm
---



When I was but a young student, I'd sit in my friend's living room with all my classmates and play on his SuperNES. Since then I've had the opportunity to test out all the newest technology for you. I've done reviews at Curved, Computer Bild and Netzwelt, and have now arrived at Galaxus.de. 
---
These articles might also interest you