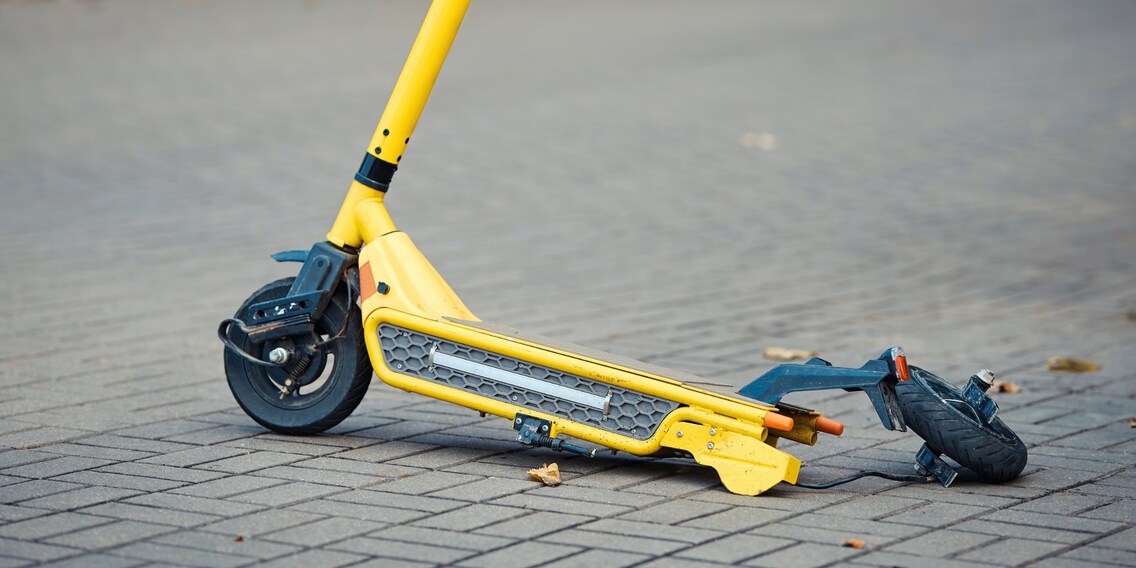 These product groups generate the most warranty claims

0.4 per cent of all products ordered from Galaxus and Digitec are returned within two years due to warranty claims. The figures, however, vary significantly by product type, with e-scooters, baby monitors and headphones especially likely to be reported faulty.
Warranty claims demand time – and nerve. If coffee machines, e-bikes or lawn mowers break, it may take weeks for the products to be returned after repairs are complete. Not only that, but it's often feared that the service centre will end up not recognising the fault as a manufacturer- or statutory warranty claim.
Online department store Galaxus and electronics specialist Digitec started making their warranty scores publicly available in January 2023. This way, customers can find out, for instance, that Sage coffee grinders lead to warranty claims in 1.3 per cent of all orders within two years (as of June 2023). As a result, customers can decide whether they'd prefer to buy a less defect-prone device from a competing brand instead.
For the first time ever, Galaxus and Digitec is now revealing details of the average warranty score across their entire product range. The figures for individual product groups and product types are also included. Overall, four out of every thousand products sold by the online retailer turn into warranty claims (0.4 per cent).
The warranty score is relatively high for household appliances, IT products, consumer electronics and mobile phones. «Electronic devices are naturally more susceptible to defects than, say, cooking pots or tennis rackets,» explains Lauritz Fricke. Lauritz is Head of After Sales & Retail at Digitec Galaxus and, as such, responsible for returns and warranty cases. Another factor, he says, is price: «There's more incentive to make a warranty claim on a broken TV than on a leaking ballpoint pen.»
At the other end of the warranty score board, you'll tend to find more inexpensive product groups, such as foodstuff, books, office supplies, as well as sun creams, shampoos or toothbrush heads from the Health + Beauty category.
Seven out of 100 e-scooters end up as warranty cases
E-scooters and hoverboards top the «flop 20» of product types. On average, 5.6 per cent of these devices break within two years of purchase through no fault of their owners. If we look at e-scooters separately, the rate is as high as 7.2 per cent. This means seven out of 100 e-scooters end up as warranty cases. For hoverboards, it's five out of 100.
«The high defect rates give us trouble every day,» says Patrick Honecker, who, as Category Business Manager at Digitec Galaxus, is responsible for purchasing e-scooters and hoverboards, among other things. «Every warranty claim annoys our customers, especially if they use the scooter to get to work.» On top of that, these numerous defects eat into our profit margin, as they cost our Customer Service and After Sales Service teams time and money.
Broken parts as well as damage to the ball bearing and tyres are the most likely complaints customers have about e-scooters. By the way, the adage «buy cheap, buy twice» doesn't apply here as even high-priced models and brands often give up the ghost on gravel or sand. «Even supposedly high-quality goods often don't last two years,» Patrick says. To make matters worse, he adds, e-scooter manufacturers mostly install fixed wheels. «This means laypeople can't just order a replacement tyre as they usually would for a bicycle.» As a result, broken wheels often end up as defects covered by warranty.
Cheap tat fit for the trash
Baby monitors and headphones also lead to an above-average number of warranty claims. Unlike with e-scooters, however, there's a correlation between price and the frequency of defects in this category of products – and the pros agree. «Cheap, mass-produced products break more often than more expensive devices,» says Yuki Gasienica, Category Business Manager for baby monitors. Ioanna Nenova, Portfolio Development Manager for headphones, agrees.
When it comes to PCs, which are also prone to defects, the complexity of the products is suspected to be the reason why: «PCs are more susceptible to defects than a lot of other products because they simply have more components that could break,» says Category Business Manager Matthias Berchtold. He adds that the number of warranty claims is relatively low for manufacturers that produce pre-built PCs in large quantities, but higher for smaller brands – gaming PC specialists, in particular.
Cue the elevator music
When a warranty claim is made, Galaxus and Digitec take an average of three days to repair the defective product or send the customer a replacement. Electronic devices take more time to be assessed and repaired than other products. Consequently, a typical warranty claim takes eleven days for PCs and workstations, nine days for notebooks, and eight days for printers and scanners. Service centres designated by manufacturers are generally responsible for warranty claims at Galaxus and Digitec. A quick check is often all it takes for Digitec Galaxus to trigger the shipment of a replacement product.
So what's Digitec Galaxus going to do with all this knowledge? «Since we've started disclosing the figures by brand and product type, we've had good conversations with manufacturers, distributors and service centres,» Lauritz says, adding that this has improved repair processes in many places. «On the customer side, we give transparent information instead of being paternalistic,» adds Lauritz. This means that the online retailer doesn't regularly drop brands or product groups from its range due to excessive warranty claim rates. Instead, customers are given a choice between products with a relatively high defect rate, and ones with a relatively low defect rate. As a result, their shopping habits determine what remains in the range and what doesn't.
What was your most annoying warranty claim? Which brands do you think are high-quality? Which would you say are junk? And what should Galaxus and Digitec improve in terms of warranty service? Let us know in the comments!
---



At Digitec and Galaxus, I'm in charge of communication with journalists and bloggers. Good stories are my passion – I am always up to date.
---