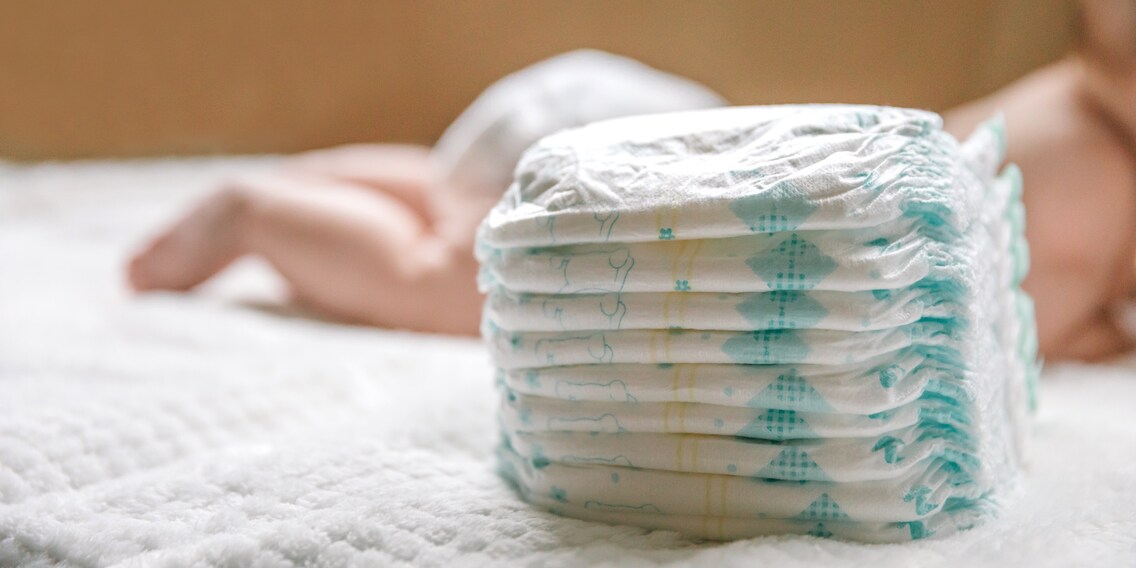 Diapers crowned new Galaxus top seller

With 18 per cent more packs shipped compared to May 2022, diapers have been crowned Galaxus's top-selling product. Last month, Galaxus customers placed more orders for nappies than for any other product. Baby body care products, wet wipes and baby food are also seeing an online boom.
Schlep a load of diapers home from the supermarket? No thanks. That's what an increasing number of Galaxus customers seem to be thinking. In May 2023, they wrangled diapers onto the online shopping throne for the first time ever. These top sellers went into the mail ten thousand times last month, outselling every other product type and boosting sales by 18 per cent on the previous year. As for June, it's becoming apparent that diapers will defend their top seller title.
On their way up the ranks, they've pushed other popular product types, including USB cables, ink and headphones, down the league table (see chart). Sales of baby body care products such as nail scissors, saline solution for blocked noses, fever thermometers and baby lotions also shot up. With sales growth hitting 57 per cent in May, the product group ranked 18th out of 2,148. Immediately behind them were wet wipes (ranked 24th, up 21 per cent) and baby food (ranked 33rd, up 42 per cent).
«What's proving especially popular with our customers are monthly diaper packs,» says Mara Agnelli. As a Category Business Manager at Galaxus, Agnelli is responsible for the diaper range, as well as other products. «The large packs are particularly cheap if you look at the price per diaper – and the majority of these packs are only available for purchase online.» Look for monthly diaper packs at your nearest corner shop, on the other hand, and your search will be in vain – if you're willing to lug them home in the first place, that is. Reusable cloth diapers are also selling increasingly well, but they're still a rarity compared to disposable ones.
The most popular diapers among Galaxus customers are those from market leader Pampers, followed by Pingo and Rascal + Friends. «The thing that's particularly important to parents when it comes to diapers is their absorbency and skin-friendliness,» Mara says. Sustainability questions, such as whether the diapers are damaging to the environment, contain harmful substances or involve animal testing, aren't far behind. «When it comes to wet wipes, which often end up in the same shopping cart as diapers, parents again pay particular attention to skin compatibility and whether they're plastic-free.»
Tipped to defend the top spot
This chart illustrates the meteoric rise of diapers in the Galaxus sales rankings. Up until 2016, however, they barely got a look in. «At that point, we only purchased our diapers through distributors,» Mara says. Then, in summer 2016, the first large-scale order direct from the manufacturer came through, enabling attractive prices and fast delivery times. «Since then, we've expanded our range for babies and parents considerably.»
Diapers are now charting a steady course: «I expect diapers will retain their top-10 position in the Galaxus sales rankings for the next few years,» says Mara. «And thanks to the increasing number of brands and diversity of products, we'll continue to gain market share.»
What do you think of the Galaxus baby range? What products do you use? What do you look for in the products you buy? And what's missing from the Galaxus range? Let us know in the comments!
---



At Digitec and Galaxus, I'm in charge of communication with journalists and bloggers. Good stories are my passion – I am always up to date.
---