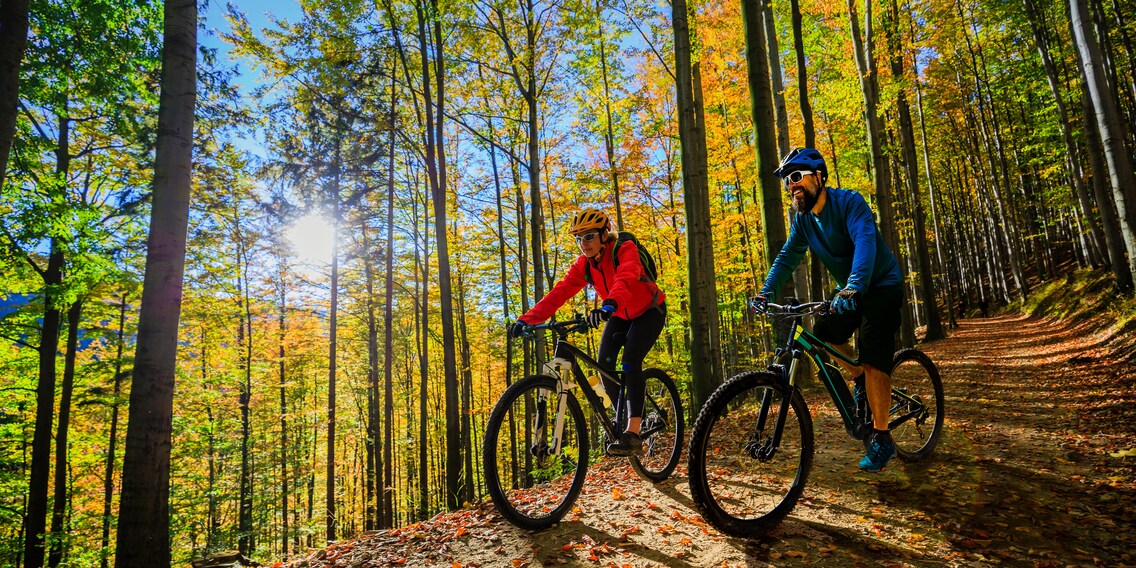 In shape with Galaxus: 10 years of bikes, dumbbells and more

In Switzerland, about a quarter of all sports equipment is purchased online. Some surely with us, as Galaxus offers the largest sports range in Switzerland – over 300,000 products. Let's take a look at yesterday's challenges, today's bestsellers and tomorrow's milestones.
Hiking, swimming or cycling – Galaxus has the right equipment for pretty much every sport. First launched 10 years ago, the sports range has grown every year, satisfying the needs of more and more athletes who want to buy their equipment online.
While in 2017 only 10 per cent of all sporting goods were bought online in Switzerland, the number had grown to 27 per cent by 2021. With growth of 170 per cent, the sports category outperformed almost all other product categories. Only the toys category (+222%) showed even larger online growth, taking a larger and larger market share from bricks-and-mortar retailers.
Number one by a mile: bikes
Galaxus is also profiting from the effects of this increasing affinity towards online shopping. Cycling, outdoor and fitness products are performing very well, while the online retailer's bestselling sports products in the last five years have been bicycles and their accessories.
Nicolas Pulfer, Senior Category Business Manager at Galaxus, sees two main reasons for this: «Firstly, we've already been selling bikes and bike accessories for ten years. Our customers know and appreciate our comprehensive range. Secondly, bike accessories are ideally suited to buy online.» In addition, customers know what to expect when they order a combination lock, brake blocks or a water bottle online and don't need to touch these items to be sure they're getting the right thing and won't need to return it later. «People also prefer to have bulky products such as bike racks or bike trailers delivered directly to their doorstep», Nicolas says.
Let's get back to the sales ranking: bike helmets also experienced a boom, helping to propel the product group «Protective equipment» from tenth to sixth place in terms of sales between 2017 and 2021. Second and third place go to the product groups «Outdoor» and «Fitness». Having said that, the latter two temporarily swapped places during the Corona year 2020 and the at-home fitness trend.
Of the top 10 product groups, protective equipment (+905%), fitness products (+617%) and outdoor equipment (+590%) have grown the most since 2017. The product group «Fun sports» comes last with growth of +219%.
Our perseverance is paying off
Let's look back a few more years: in 2012, Galaxus was launched and the first sporting goods were sold. Even then, bicycles and their accessories were the sports bestsellers – unsurprisingly. But many things were different back then, as Martin Maissen, Leader Category Management Sports at Galaxus, recalls: «When I joined Galaxus in 2015, we were a team of four.» Today, the sports team has 17 members.
E-commerce in general wasn't as established in Switzerland back then. «In the beginning, almost no one wanted to offer their products on Galaxus. Online retailers were regarded with suspicion. We had to approach suppliers again and again to convince them of our platform,» Martin says and adds, «Today, we work with numerous suppliers and partners and offer a sports range of around 320,000 products.» The online department store also achieved a big increase in sales: Galaxus generated 34 times more sales from sporting goods in 2021 than in 2015.
Marketplace: moving into new dimensions
This sales growth is also down to the marketplace, which Galaxus launched in 2016. More than 300 partners are currently using it to offer their products on Galaxus and its sister platform Digitec in Switzerland. «Our marketplace is very popular with sports retailers. The huge range of product has a knock-on effect on sales. Sports is the strongest of any of our marketplace categories,» says Senior Portfolio Development Consultant Oliver Rinderknecht. He's one of the people responsible for ensuring that we continue to attract sports giants such as Ochsner Sport and Decathalon in the future.
What's next?
The next big milestone for the Galaxus sports team is the soon-to-be launched marketplace for Germany and Austria. This is also where Martin sees the greatest potential: «We already have a lot of top brands on our shop, but we want even more. There's room for improvement in Germany and Austria especially.»
Despite ambitious growth targets, people are and will remain the focus at Galaxus: «Without my fantastic team, I wouldn't have been doing this job for the last eight years. Most of them have been working here for five to seven years now. The low staff turnover shows that we have an awesome job and are on the same wavelength as people too», says Martin. He adds: «We're passionate about sport, and we're going to keep on giving it our all!»
---



Studies claim that we have a shorter attention span than goldfish. Ouch! My job is to get your attention as often and for as long as possible. How? With content you enjoy. Outside of the office, you'll find me on the tennis court, curled up with a book, Netflixing or travelling. 
---