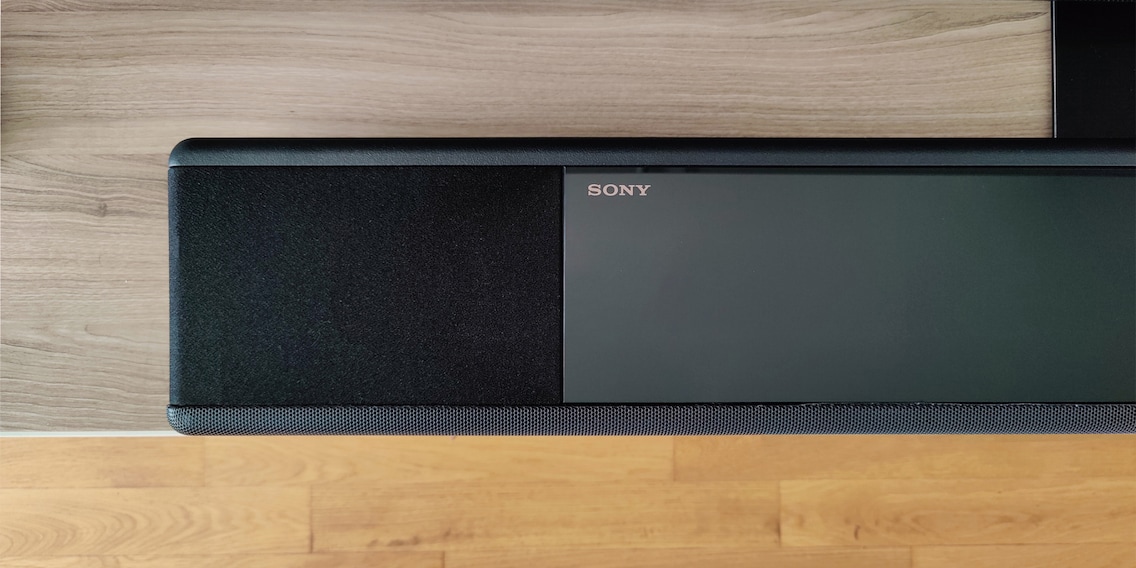 Sony's new monster soundbar: the HT-A7000 reviewed

The Sony HT-A7000 is pricey. In return, you'll be able to use the soundbar for longer thanks to two additional HDMI 2.1. ports and the fact that it supports all common audio formats. Oh, and did I mention that 360 Spatial Sound Mapping rocks?
«Whoa!» I think to myself when I spot the price tag on Sony's new flagship soundbar. It's almost 1,000 francs. That's more than the already expensive Sonos Arc, for example. Sony devices are expensive. That's nothing new. However, Sony's products are also good. The Japanese manufacturer rarely makes rubbish. And the HT-A7000's no exception. So if the brand's more important to you than the price, then the HT-A7000's worth taking a look at. A long and hard look, in fact. Why? 360 Spatial Sound Mapping.
Or digital steroids, as I like to call it.
Full disclosure: I got the soundbar from Sony for testing, along with two rear speakers – Sony's [SA-RS5] – and a Subwoofer, the SA-SW5. The full package is available from us for 2,199 francs. However, if you order now, you'll be waiting until the end of October for your rear speakers and subwoofer, our purchasers tell me.
360 Spatial Sound Mapping… say what?
Setting up's a doddle. I connect the soundbar to the TV via HDMI eARC. Next up, I connect the soundbar, subwoofer and speakers to the power supply via cable. Done. I don't need any additional cables; the devices communicate with each other via Wi-Fi.
Next up is the calibration via software – the sound field optimisation. Think of it as an imaginary dome that's been plopped on top of you. The speakers emit strange sounds at first, which reverberate off the walls, windows and ceiling. The microphones in the speakers then recapture the sound waves. Using the resulting data, the processor in the soundbar creates an acoustic image of the room. According to Sony, that's how it optimises the sound field or «dome». Regardless of where the soundbar and speakers are positioned.
Sony calls this sound field optimisation «360 Spatial Sound Mapping». Within this dome, a whopping twelve sound channels are simulated by means of complicated calculations and algorithms. In theory, this creates the most room-filling sound possible. A sound that seems to be coming from all corners – or even from the ceiling – even though there are no speakers. According to Sony, however, this only works if you add two rear speakers to your HT-A7000 (article in German). As mentioned, I used these ones.
Frankly, rear speakers are a must anyway if you want real surround sound. I've yet to experience digital sound manipulation (DPS) that actually produces sound behind me without the presence of physical speakers. Neither Sony nor Samsung nor Sonos nor any other brand have pulled that off yet. It's just marketing blabber.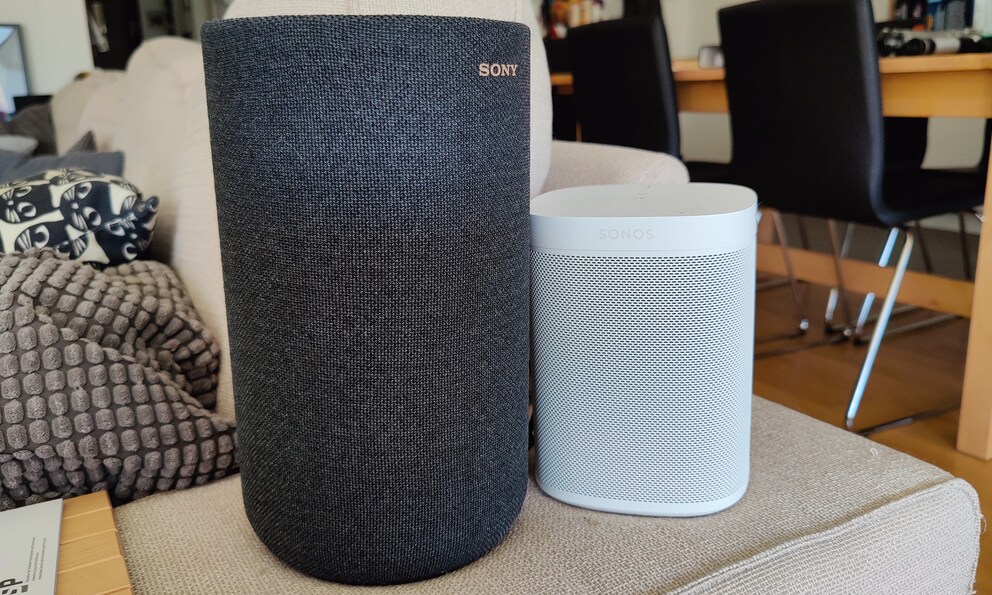 By the way, both 2.5-kilogramme SA-RS5 rear speakers are outstanding. Each cylinder contains four drivers. A dome tweeter, woofer and a passive radiator each to cover high, mid and even bass frequencies effortlessly. And there's an upward radiating driver for vertical sound. The main attraction? The speakers have an internal rechargeable battery that delivers a total of ten hours of runtime. That's on the short side to cater for my watching habits. But the fast-charging function is top-notch. Every ten minutes of charging gives you 90 minutes of sound. If I hadn't already laid power cables under my sofa for my Sonos speakers, I could use the SA-RS5 speakers without any cables at all.
But back to the soundbar.
Stylish and full of huge drivers
«What's in the box?», a distraught Brad Pitt once asked in the psychological thriller «Seven». I was wondering the same thing about Sony's HT-A7000. A look at the spec sheet shows two upward-facing drivers – for that vertical sound – two beam tweeters that radiate away from the side of the soundbar, five front speakers for surround sound and a subwoofer. Broken down this looks as follows:
Left/right sound channel
Centre sound channel
Two vertical sound channels
Two rear sound channels *Two upper sound channels
One bass
And there you have it: a sound field with a 7.1.2 system. In total and without any accessories, the HT-A7000 achieves 500 watts of nominal output. Add two rear speakers and a dedicated subwoofer, and you've got a 7.1.4 system with 980 watts of nominal output. That's amazing!
Having said that, with a length of roughly 130 centimetres, a height of eight centimetres and a depth of around 14 centimetres, the HT-A7000 is a pretty impressive size. Fortunately, Sony was smart enough to design the soundbar so it still fits under Sony TVs. Unlike the 65-inch TCL C93 I'm currently testing. It regularly blocks the infrared sensor for the remote control. That's annoying. If you've got a TV that's on the small side, placing the soundbar in a good way might prove even trickier.
Having said that, its size isn't all bad. What speaks for it is that it allows the built-in drivers to be large too. These create a more room-filling sound than smaller soundbars. The HT-A7000 also looks fantastic. The metal grille at the front covers all front drivers as well as a small LED screen. At the top, a fabric cover conceals the upward-facing drivers. And between the two speakers, Sony's put in a glossy surface with touch-sensitive buttons.
One word: stylish.
All the ports are located at the back. As is typical for Sony, the selection is ample in a good way. Here's what this means:
1× HDMI 2.1 output, ARC and eARC-enabled
1× large S-centre output
2× HDMI 2.1 inputs
1× optical input (Toslink)
1× analogue audio input
1× LAN
1× USB interface for updates via USB stick
Built-in Chromecast
Bluetooth 5.0
The two additional HDMI inputs are particularly nice to have. Firstly, because they loop through Dolby Vision and Dolby Atmos without any difficulty. Secondly, because I use so many external devices that the four HDMI inputs on most TVs haven't been cutting it for a while now. The only fly in the ointment? Although my Playstation 5 managed to loop through a 120-Hz signal with UHD resolution and enabled HDR, it couldn't handle variable frame rates (VRR) and auto low latency mode (ALLM). That's why you should continue to connect consoles directly to your TV. By contrast, Blu-ray players or set-top boxes can be connected straight to the soundbar.
Now let's take a closer look at the main supported sound formats. As we've learned to expect from Sony, the selection is generous:
Dolby Atmos
Dolby TrueHD
DTS:X *DTS digital surround
360 reality audio
FLAC, ALAC and DSD
Especially when it comes to DTS:X, the DTS equivalent of Dolby Atmos, Sony is ahead of its competition Sonos. The latter supports DTS Digital Surround at most. What's more, when you're watching TV, sound formats with few channels – for example, stereo – are automatically scaled up and distributed among up to twelve sound channels. This means 360 Spatial Sound Mapping.
When listening to music, however, less qualitative formats are scaled up to DSEE Extreme if music is being streamed on the speakers via Wi-Fi. If these abbreviations are all Greek to you, here's the lowdown: DSEE Extreme is pretty close to hi-res formats. Regardless of what you're listening to on the HT-A7000, it will sound amazing.
The sound: true cinema feel
Time to put all the theory into practice. One of my favourite scenes for testing sound is featured in «The Tomorrow War». The film, starring Chris Pratt in the lead role, tells the story of a war that's fought and lost in the future. As a consequence, people travel to the past – our present – to get reinforcement. This is exactly where my test scene begins. The surround sound mix is one of the best I know. Not least because it includes sound from above – vertical sound.
Source: Amazon Prime Video. Sound: English, Dolby Atmos
Obviously, the video above is unable to reproduce how it actually sounded. Or felt, for that matter. But believe me, it billowed and boomed all around me as lightning bolts and crimson energy fields blasted open the portal to the future. Then, with a loud bang, a wormhole opened up above Chris Pratt and the other soldiers – a bang that felt as if it'd come from right above my head. The soundscape's verticality is good. Better than what my Sonos system with the Sonos Arc produces. At the same time, it's not amazing. Next up, the movie shows one soldier after another being sucked into the wormhole, their yelps of shock echoing. Then, it's Chris Pratt's turn. His flight through time and space fills my living room with sound. It booms and whooshes. There's lightning and thunder. The group leaps into the future.
The surround sound – without verticality – is literally breathtaking.
On to the next test. During my [Sonos Sub Mini review], I recently discovered another movie with a terrific sound mix: «Edge of Tomorrow».(/page/sub-mini-im-test-sonos-kleiner-subwoofer-hat-erstaunlich-viel-rumms-24956). This film is also about a war against superior alien invaders. A battle on a French beach looks like it might turn the tide. Tom Cruise, me and a host of soldiers jump out of the hit military helicopter that's hundreds of feet above the ground – we're crashing.
Source: Blu-Ray. Sound: English, DTS-HD Master Audio 7.1 soundtrack. Please note: the video of the soundbar was lost. Sorry about that. I'll have real video footage for you again when I carry out the next test.
Pure chaos. The wind whistles all around us. The screams, too. First from the front boxes, then from the rear ones. The aliens' projectiles whizz past me and miss me by a hair's breadth. Instead, they hit soldiers. Helicopters. Explosions roar all around my living room. Flying debris almost hits me. Others aren't so lucky. Bones break, bodies are squashed. The bass rumbles. The first hapless soldiers crash onto the hard ground. Now, humanity starts to shoot back. I want to duck to avoid being hit while soldiers run towards their certain death, cursing and swearing. That's how much I feel part of the on-screen action.
Pause. I need a quick breather. The HT-A7000, together with the two rear speakers and the subwoofer, transform my living room into a cinema. My mind is blown by the surround sound. The upward-facing speakers do their best to give me the impression the sound's coming from above. They do a pretty good job. But not as good as Sony's HTA9, which I consider top of the class. Here's the test I carried out on them, if you'd like to learn more:
Of course you can also use the HT-A7000 for more than just bomb-heavy alien invasions. Enjoying music, for example. But more on that later. Or watching quiet productions, such as Netflix's «The Crown» – a series that's reappeared in my playlist due to current events – in which a clear, natural reproduction of voices and dialogues is important.
The music: rich and multifaceted
I'd like to end on a musical note. Starting with «In The Heights» by the winner of multiple Tony and Grammy awards Lin-Manuel Miranda. I like his typical mix of traditional Latin American styles and hip-hop, pop or rap. It's a perfect fit. The song says «Paciencia y fe», patience and courage. After all, the immigrants from the New York Heights all harbour the dream of a better life, the «sueñito». Sony soundbar does it justice. The Caribbean 3-2 clave rhythm, made famous by «West Side Story», sets the pace. In the background, the piano plays the melody, the bass adds gravitas, the drums and percussion make my head bob. The soundbar reproduces everything crystal clear. None of it sounds overloaded. Somewhere in between, I think I can make out steel pans. I'm whisked away to the Caribbean. Then, at 0:35, the electric bass kicks in. Hip-Hop. That's exactly what I mean when I talk about Miranda's exciting changes in style.
The next song is «Another Day of Sun» from the movie «La La Land». This song is jazz perfection. The double bass hums along comfortably, a piano plays with harmonies, the drums pulse and swirl in the background while trumpets celebrate the incoming melody. At 0:08: there's the first of numerous «hmpf» punches I wanted to hear. High-frequency nylon brooms caress the drums. The singer's voice stands out from the rest of the music. Love it! It's as if the band was playing live in front of me.
Lastly, the explosive song «B.Y.O.B.» by my absolute favourite alternative/nu-metal band «System of A Down». The song is suitable because it constantly switches between very loud and very soft. That's a challenge for many soundbars. Not so for the HT-A7000. It's unfazed. First: the electric guitar. Alone. Then, «You!», as the whole band kicks in. Sony lets co-vocalist Daron Malakian scream out his anger at the world at the top of his lungs. Next up, lead singer Serj Tankian joins in. The pounding drums add another layer. Then the bass. My living room's trembling. I'm headbanging. All of a sudden, at 0:52: silence. Serj and the rest of the band sing about society's ignorance. The track becomes quieter. The HT-A7000 takes a step back, displaying good balance. Very good.
Time for a verdict.
The lowdown: expensive but impressive full package
I could give you countless examples. But one thing's for sure. The HT-A7000 is the best soundbar I've ever tested. Not even my own Sonos Arc with its two Sonos One speakers and the subwoofer come close. That's mainly because the «Ones» don't have any additional drivers that radiate sound from the back to the top. However, this still wouldn't make me instantly swap my system for it. As a multi-room speaker, especially for listening to music, I find Sonos and its app much more elegant. More accessible.
In addition, it's actually Sony itself that's developed the fiercest competition. Namely, the HTA9 system. There's no soundbar, but four dedicated, largish speakers that deliver the sound. That's precisely why the HTA9 manages noticeably more verticality. And because its processor sits in a separate, receiver-like box, I dare to say that it's more future-proof – and cheaper at that than the HT-A7000 including add-on products. The only thing potentially going against the HTA9 is that the chunky speakers won't fit all types of interior design styles.
So who's the HT-A7000 for? For those of you who'd rather go for a soundbar and those who consider a multi-room setup secondary at best. The HT-A7000 sounds massive, precise and, thanks to its size, has plenty of oomph. It doesn't need too much digital manipulation to sound room-filling either. In addition, audio content with fewer audio channels scales impressively high thanks to 360 Spatial Sound Mapping. Admittedly, the soundbar's a bit more expensive than a comparable Sonos lineup. In return, the HT-A7000 supports more DTS audio formats, has two additional HDMI 2.1 inputs and even an integrated Chromecast.
A bloody good package.
---



I'm an outdoorsy guy and enjoy sports that push me to the limit – now that's what I call comfort zone! But I'm also about curling up in an armchair with books about ugly intrigue and sinister kingkillers. Being an avid cinema-goer, I've been known to rave about film scores for hours on end. I've always wanted to say: «I am Groot.» 
---